When it comes to fashion and interior-design trends, vintage and retro are the latest buzzwords in the consumer market. Likewise in the jewelry industry, there had also been an increasing demand for vintage style engagement rings.
The Comeback Of Vintage Style Engagement Rings
First of all, I will admit to a certain degree of bias because of my soft spot for vintage styled jewelry.
I believe the resurgence of vintage engagement rings is attributed to their classic and timeless appearances. Somehow, vintage rings seem to have a magical ability to captivate people with feelings of romance and love.
Don't you think so too?
Many styles of vintage engagement rings feature beautiful and highly intricate details which make them stand out from mass produced, characterless designs in the market.
The fact is, many modern jewelry manufacturers no longer make rings like they used to. This is because the intricate details are often too expensive to create on a large scale basis and many craftsmen no longer have the expertise to create these rings.
In today's blog post, I'm going review a recently purchased vintage diamond ring with phenomenal craftsmanship and hand-engraved motifs. I'm also going to show you how and where you can buy original, one-of-a-kind vintage jewelry pieces that will take your breath away.
Brilliant Earth's Antique Diamond Rings Designs
Brilliant Earth is one of the largest online jewelers and specializes in ethically sourced fine jewelry. They also offer a vast collection of sophisticated settings that are made to order.
Check out some of their beautiful vintage ring designs below…
---
The Rosabel ring features 3 round accent diamonds on each side its shanks and showcases a delicate hand-sculpted milgrain design. Although it is available in different colors (white gold, yellow gold), I personally find the rose gold version to be most appealing.
---
The 3-stone Heirloom ring features shoulders with sublime milgrain details. The entire ring is also lined with a stunning array of pavé diamonds and creates a stunning presentation of the center stone.
---
The Paloma ring is a charming design that features 12 accent diamonds nested within marquise shaped frames. From the side profile, you can also see a uniquely sculpted shank design which runs through the entire ring.
A Review of the Hudson Ring in 18K White Gold
Now, I know you are probably wondering: "How good is the quality of jewelry offered by Brilliant Earth?" or "Is it really safe to buy an engagement ring online?"
Well, that's what I set out to discover when I placed an order for an 18k white gold ring at BrilliantEarth.com. After spending time to browse through Brilliant Earth's vintage engagement ring settings, I settled on the Hudson ring.
The Hudson ring is part of Brilliant Earth's Antique Collection and the Customer Favorites Collection. It features hand-carved motifs along its shanks and is available in a variety of metals.
Create Your Own Engagement Ring? – Yes. That's What I Did
Using Brilliant Earth's "Build Your Own Engagement Ring" feature, I handpicked a GIA certified 0.55 carat, F color, SI1 clarity, super ideal round brilliant cut diamond to complete the ring.
Upon request, here are some additional diamond information which were provided to me:
Photograph of GIA graded diamond at 20X
 Corresponding GIA grading report #2161964975
Note: besides ethically mined diamonds, Brilliant Earth is also the largest online retailer of lab-created diamonds in the United States. For people who want to minimize the environmental impact of your jewelry purchase, lab grown diamonds are definitely something you want to consider.
Receiving The Parcel From Brilliant Earth Via FedEx
Upon placing the order, the ring took roughly 3 weeks for fabrication and was delivered securely by Fedex. I made a quick video of the unboxing process to show what you can expect to receive.
Inspection And Photographs of the Diamond Ring
Using my newly purchased light box, I managed to capture detailed images of the ring. What I really love about the ring is the amazing craftsmanship and care that was taken to create it.
Don't believe me? Check out the incredible workmanship of the ring for yourself below… Bear in mind that these images are taken at high magnification and will reveal discerning details of the ring.
Top view: the shanks gradually broaden to create an accent effect on the center diamond.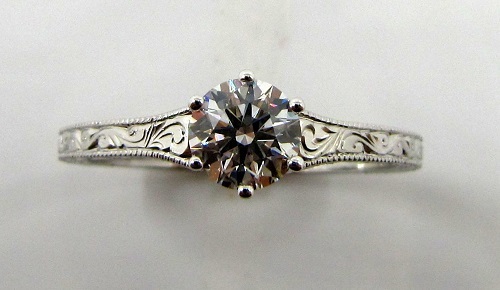 The intricate patterns on the ring's shanks are meticulously hand-engraved.
Side profile view of the ring with floral-inspired details.
Milgrain borders of the ring adds a touch of class to the overall appearance.
Having scrutinized the ring in person, I can tell you that the standards of Brilliant Earth's ring fabrication process is among the best I had seen in the industry.
And this really speaks volumes about their product quality; considering that I had reviewed hundreds of jewelers which includes big international brands like Tiffany and Cartier.
Cut Details of Center Diamond
Frequent readers of Beyond4Cs.com will know that I'm very particular about a diamond's cut. When buying diamonds, I expect nothing less than stones with the best sparkle and beauty.
Idealscope image of diamond indicates optimal light return and contrast.
ASET image reveals details of a bright and sparkly diamond.
Light Performance of Diamond in Various Lighting Conditions
Brilliant Earth's Antique And Vintage Wedding Rings
Besides the ability to customize and build your own engagement ring, Brilliant Earth also has a big collection of pre-set vintage wedding rings and one-of-a-kind antique pieces.
What really sets them apart from is the availability of ring designs in specific eras such as Victorian, Edwardian, Retro and Art Deco. This is ideal for people who are looking for a unique jewelry piece with a history behind it.
And it gets better…
Brilliant Earth has more than 800 unique designs available for you to cherry pick your dream engagement ring from. This means that no matter what your personal tastes are, you will definitely find something of your liking!
Here are some of my favorite designs:
Art Deco Era – The Sara Ring
The Sara Ring takes on a floral design and is one of my favorite pieces in the Art Deco engagement rings collection. It makes clever use of milgrained borders and accent diamonds to create a flamboyant appearance.
Edwardian Era – The Sileny Ring
The Sileny ring is a blast from the past. It features a circular mount with French cut diamonds and utilizes 3 red rubies in the center of the ring. With careful placements of pearls set at the edges of the ring, this amazing ring exudes class and an air of romance.
Victorian Era – The Zerlina Ring
This nostalgic looking antique ring from the Victorian era showcases 3 opals that are mounted in a straight row. To create a color contrast, 2 rubies are set adjacent to the center opal which adds to the allure of the piece.
Here's The Deal…
Many of Brilliant Earth's antique diamond rings are one-of-a-kind and there's only a single piece available for each design. Once it's bought by someone else, it's gone and the best you can do is to request a reproduction to be made.
Click here to browse and select an engagement ring that's uniquely yours! If there's a particular ring design you like, my advice is to move fast and take immediate action in order to avoid disappointment.
Good luck with your search!
If you found this post to be helpful, feel free to share it around via Facebook or Twitter. Lastly, if you have any questions, simply leave a comment below and I'll get straight back to you.
Related Articles