So, what's an SI3 grading? At some point in time, I am sure most people searching for diamonds in local or online stores would have stumbled upon this term. You might had even come across SI3 deals that are way cheaper and seemingly more generous than the usual GIA/AGS offerings.

And yes, that deal is too good to be true.
As a consumer, if you ever think you can get an upper hand in a deal against a jeweler who knows their stuff, think again. Jewelers are not stupid. If something sounds too good to be true, you need to be smart and be wary.
Let's do a quick recap on the clarity grading chart that GIA created. From left to right, you have clarity grades ranging from Flawless (FL), Internally Flawless (IF), Very Very Slightly Included 1 & 2 (VVS1 & VVS2), Very Slightly Included 1 & 2 (VS1 & VS2), Slightly Included (SI1 & SI2) and Included (I1-I3).
So, where does the SI3 clarity grade fits in?
A Little History And Background
The SI3 clarity grading was created by a man called Tom Tashey when he was head of the EGL-LA lab back in the 90's. In essence, the SI3 grade works like a band-aid to help the industry differentiate the better I1's (eye-clean) from the other included diamonds.
On paper, that sounded like a good idea if it was implemented properly. However, due to the amount of money involved when dealing with diamonds, it soon became an avenue for abuse.
You see, if you were to take the same exact (SI3) diamond graded by EGL to GIA, it would most likely receive an I1 or worse grade at GIA. It's no wonder that GIA or any other major labs around the world won't recognize SI3 as a clarity grade. And in my humble opinion, neither should you as a consumer.
Wait, If It is So Bad, Why is There an Existence of the SI3 Grading?
Due to way GIA had established the clarity scale, consumers have a mindset that anything lower than an SI clarity grade is undesirable. Most people automatically shun I1 or I2 diamonds like taboo as it would usually mean a diamond with obvious flaws to the naked eye. Now, as a jeweler who wants to capitalize on making money with lower grade diamonds, what would you do?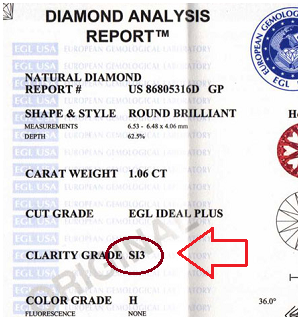 You use a misleading nomenclature to confuse consumers and that's exactly how the SI3 grade got manipulated. With a new clarity grade that blurs the line between I1 and SI2 diamonds, jewelers are now suddenly able to pass off inferior I1 stones as slightly included (SI) diamonds. All it takes for them is to get these diamonds graded softly by EGL!
In a nutshell, the SI3 grading is created to help jewelers sell more diamonds. This is because of the mindset consumers have about slightly included (SI) diamonds being OK while included diamonds aren't.
As a consumer, an SI3 clarity rating in an EGL report isn't all you need to worry about. Their unreliable grading practices in color and cut are big red flags as well.
Is It Really All That Bad?
While the majority of I1 diamonds have issues with durability and being eye clean, there do exist a small minority of GIA graded I1 diamonds which will face up totally clean to the naked eye. This requires each diamond to be judged on a case to case basis and rarely happens.
Likewise, you can find decent looking SI3 diamonds if you look hard enough but the odds are highly stacked against your favor. The bottomline is that an SI3 grading is nothing more than a glorified I1 grading.
Check out some real life examples here and you will see what I mean…
Seriously? The grading standard is a joke… Inclusions are "conveniently omitted" in the plot diagram. Ask yourself the following question: Does the plot reflect the real stone accurately?
To show you the earlier example isn't a fluke and that EGL is consistently undergrading stones sent to them, here's another atrocious example. I had also included a magnified photograph of the diamond for your reference…
SI3 my a**, how is this diamond different from an I2 or I3 grade assigned by GIA?
Unless you are experienced in the trade or have a knack for inspecting diamonds, lady luck won't favor you on landing a good deal with SI3s. Jewelers are smart enough to send a diamond to GIA if it fully deserves an SI2 from them. To "bump" the grades of inferior I1s, they send them to EGL so that it returns with a certificate that has nicer looking grades (SI3).
My final advice? Avoid SI3 diamonds as you are likely to end up paying more for something that only looks better on paper. Let the jewelers play their game of selectively choosing grading labs for all they want.
As an educated consumer, you will be better off sticking to certifications from GIA or AGS even if that means buying an GIA/AGS I1. At least the grading is consistent and you are actually paying the correct price for the stated quality.
Related Articles