The diamond world is full of technical terms, charts and quality issues. As a consumer, I know it can be overwhelming and confusing especially if you are a first time shopper. And there are some certain qualities that give cause for concern.
More specifically, if you come across a diamond with I2 clarity or I3 clarity, you better be extremely cautious as they are big red flags. But what does I2 diamond clarity actually mean? What is I2-I3 clarity? And why should you avoid it?
Continue reading to find out more and how it may affect you…
How Does the Grading System Work And What I2 Clarity Means?
During grading, the clarity of a diamond is assessed based on the number/severity/size/location of the inclusions it has. In general, the less visible and severe the inclusions, the higher the clarity rating. This can be summed up with a simple chart below.
The term I2 means Included 2. As you can see above, the I2 clarity grade can be found at the low end of the spectrum. By definition, they have obvious inclusions which can be easily seen using a 10x loupe (and even with the naked eyes).
In fact, most I2 diamonds have inclusions that adversely affect their transparency and brilliance.
Besides a negative impact on the diamond's appearance, the inclusions in I-2 diamonds also pose a significant durability risk to the stone. To put it bluntly, you run a higher risk of the stone chipping and breaking due to weak structural integrity.
Let's Take a Look at Some I2 Clarity Diamonds
GIA #5181358501
GIA #6252294182
On the left is a GIA graded cushion cut diamond with J color and I2 clarity. The huge feather at 4 o'clock has a heightened risk for chipping to occur. And on the right, you can see a round diamond with opaque twinning wisps which impedes light performance.
Let's take a look at a couple more examples of these heavily included diamonds…
GIA #5253947604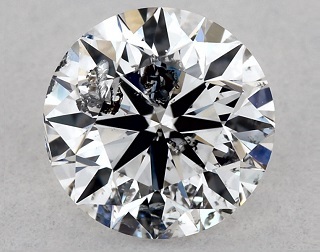 GIA #3275515850
The princess cut diamond on the left has a black inclusion at the center of the table and a big feather inclusion that's greyish in color. On the right is a 0.60 carat round diamond that has a huge crystal inclusion which is reflected around its body multiple times.
In case you haven't noticed yet, the common denominator among these 4 diamonds is that they are NOT EYECLEAN. This means you will see the offensive inclusions without any loupe or magnification tools.
And mind you, these are accurately GIA certified I2 diamonds that we are talking about. The ugly truth is, most sellers who peddle low quality diamonds with I2 clarity don't even use reliable grading reports to begin with.
This means when you see claims of I2 or I2-I3 being made by a vendor who doesn't offer a GIA report, the diamond is much much much much much worse than it really is in reality. Unethical sellers do this to grossly misrepresent the junk they are selling in order to rip consumers off.
Differences Between I1 and I2 Clarity
On a technical level, the differences between I1 and I2 clarity grades lie in the severity and visibility of the inclusions. The inclusions in I2 diamonds are usually more visible, more numerous and pose a bigger durability risk.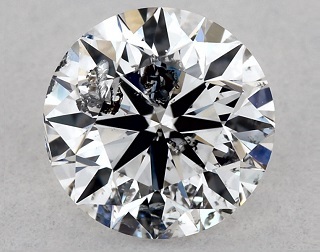 Side by side comparison of an I1 diamond vs I2 diamond.
With I1 diamonds, you still have a minute possibility of finding one that is eyeclean or less noticeable to the naked eyes. But the odds of finding one is heavily stacked against you. For the record, I don't recommend buying I1 or I2 diamonds.
Other differences between I1 and I2 diamonds are their availability and the kind of places that sell them. For I2 clarity diamonds, you will never find them being sold by any decent jeweler.
The rationale is simple and that's because they don't want their reputation to be associated with low quality goods. In fact, most businesses actually cap the lowest quality of diamonds they carry at I1.
Shopping Tips for Buying Diamond Rings With Lower Clarity
I2 diamonds are cheap for a reason and that's because they are at the very bottom of the garbage barrel. They have eye visible inclusions that are detrimental to the brilliance of the stone and are generally ugly.
For most people, the underlying reason for buying an I2 diamond is due to limited budget and probably to get a larger sized diamond. My advice to you is, scrap the idea of buying an I2 diamond completely.
Why?
Ask yourself, how would you feel if you received a diamond ring that looked like this?
GIA #2276428098 – 1.01ct H I2
I want you to stare at that diamond and let the sorry sight of the stone sink in. Next, imagine yourself to be in the shoes of your recipient. Would you be elated or be scarred for life when you see the diamond ring? Would you want to wear this abomination on your finger?
I'm pretty sure your answer is: No!
Here's the thing. When individuals are looking for a lower clarity stone, it is usually because they either think it doesn't matter (though we now know that it does) or they want to get a great deal.
If you are considering an I2 or I3 diamond for such reasons, let me tell you that there are better ways to save some cash without sacrificing so much in quality. Here's what you can do instead:
1) increase your budget or delay the purchase until you save up more cash.
2) lower your expectation of the carat size or color for a stone with decent clarity.
3) consider buying a lab grown diamond instead.
My personal recommendation to get the best value for money is to shop for G or H color diamonds with VS2 or SI1 clarity. This ensures a diamond that faces up white and is eyeclean without having to pay the premiums for higher color/clarity ratings.
0.346 ct I SI1 diamond ring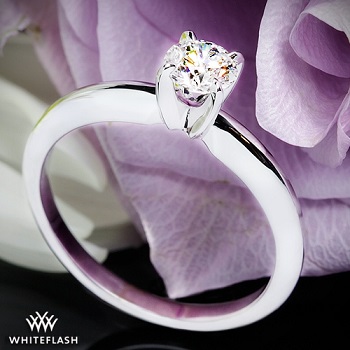 0.4 ct G VS2 diamond ring
Buying a breathtaking diamond doesn't have to be expensive and you don't have to go down to I2 for costs reasons. In fact, both rings above cost roughly $1000 inclusive of setting at White Flash. You just have to be smart about it and work within your budget realistically.
Let's Wrap Things Up – I2 Diamond Clarity
Hopefully, this article has provided you with useful insights to I2 diamonds and a better understanding of the visual implications caused by low clarity grades. I've also revealed some tips for people who are shopping on a tight budget.
Here's the bottomline; if you are shopping for an engagement ring, you definitely want to pay attention to quality. Please do yourself and your recipient a favor by avoiding an I2 clarity diamond. It simply will not cut it (pun intended). Better quality is better – period.
If you have further questions or need more advice, feel free to get in touch by dropping a comment below! Good luck in your purchase!
Related Articles