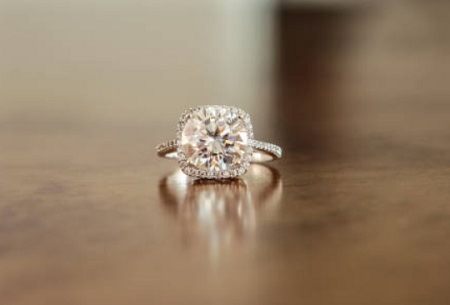 Did you know that choosing the right setting for your diamond can help the color of your diamond look better or worse? In fact, even the choice of metal can define the ring's style and appearance.
In this write up, you will find out how to select a suitable setting based on the diamond's color and discover useful tips to help you achieve the type of look you want. Let's jump straight into it…
Here is a list of topics we will be covering:
Diamond Color And How They Interact With Light
When shopping for an engagement ring, most people think of gem-quality diamonds in the market as being colorless. However, truly colorless diamonds are very rare (D-F) and most diamonds that are mined naturally typically display a hint of yellow or brown.
When selecting the ideal metal for your engagement ring setting, you want to pay attention to where your diamond is on the D-Z color scale.
Next, you need to understand that a polished diamond is highly reflective.
The facets of a diamond behave like many tiny mirrors and they reflect details from their surroundings. This means that the color of your band or prongs that come into contact with the diamond will be reflected within it.
You can use this knowledge to your advantage when selecting a setting to create the look you want or to create a more homogenous appearance.
How to Make a Diamond Look Less Yellow And Stand Out?
When it comes to diamond rings, most consumers prefer an icy white looking diamond rather than one with a yellowish looking tint. Being Asian, I'm also someone who belongs to this camp of people.
As you already learned earlier, diamonds are highly reflective. If you want your diamond to look white and less yellow, you should select a white metal like platinum or white gold for your setting. Feel free to click on the images to view the rings in 360° videos.
Both diamond rings are made using the same design and have G color center stones.
If you are someone who prefers a colored metal setting like yellow or rose gold and you want to create a striking contrast between the band and center stone, you may want to choose a setting that has white colored prongs.
By using a white metal like platinum or white gold for your prongs, it helps make the center stone "whiter" against a colored backdrop. Check out these 2 engagement rings with G color diamonds below and tell me which one looks more "yellowish".
The ring on the left has white gold prongs while the one on the right is uniformly yellow.
Metals That Can Create a Warm Look With Lower Color Grade Diamonds
Even though the general market has a preference for white looking diamond rings, there are also people who love having a warm look in their jewelry.
From experience, I find that lower color grade diamonds in the I, J and K range will go well with colored metal settings like yellow gold and rose gold. And if you are someone who loves vintage styles and appearances, enhancing the warmth in the diamond color would help you achieve that look.
Both diamonds blend well with the yellow gold settings to create a homogenous appearance.
Ring Settings That Can Enhance And Saturate a Diamond's Color
With fancy color diamonds, you generally want the setting to saturate or enhance the diamond's appearance. This can be achieved via some very smart and creative designs.
For yellowish or brownish colored diamonds, they can be combined with white metals to emphasize their color. One of the best ways to do this is via a halo setting where the melees and white color metal surround a colored diamond to make it stand out.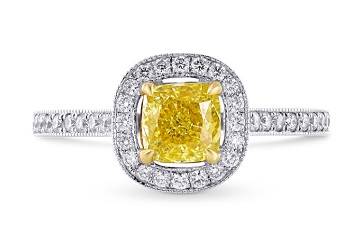 Notice how the fancy colored diamonds "pop" out of their setting?
The other way to complement and saturate a diamond's color is to make use of colored prongs. For example, pink diamonds can be mounted using rose gold prongs so that the rose gold imparts color into the diamond. Likewise for yellow diamonds, they can be mounted on yellow gold prongs to intensify the hue.
Can you see the similarity in the diamond's color and the setting's prongs?
Summary – Beauty is in the Eyes of the Beholder
The choice of metal for your setting can change the visual color perception of the diamond. Remember, a diamond's sparkle and brilliance is achieved by reflecting light back to the viewer's eye. While doing so, they also reflect their surrounding details from the environment and setting.
While color may be an intrinsic property of the diamond's chemical composition, you should also keep in mind that the visibility of its body tint is also dependent on its cut quality.
In well cut diamonds, the sparkle and brilliance can hide a color tint and make it practically invisible. On the other hand, a poorly cut diamond will result in a diamond showing more color.
At the end of the day, color is a really subjective aspect when buying a diamond and your personal tastes should take precedence. I hope this article has provided useful insights to help you make better decisions when shopping for an engagement ring.
Good luck with your search!
Related Articles