The classic Tiffany setting is perhaps the most iconic and enduring design associated with engagement rings. In fact, you will find replica Tiffany rings being offered by almost every jeweler due to the popularity of the design.
In this write up, we reveal some of the best places to buy a Tiffany style engagement ring without breaking the bank, and what makes them the best. Besides the iconic Tiffany solitaire setting, I'm also going to show you where you can get similar ring designs in the Soleste, Novo and Harmony collections.
So, if you are someone who wants a high-quality Tiffany inspired setting without the hefty brand premium, you've come to the right place! Let's jump right in…
Here is a list of topics we will be covering:
First of All, What is the Tiffany Setting?
The Tiffany setting ring with six evenly spaced prongs.
The Tiffany setting is designed in 1886 by a man called Charles Lewis Tiffany based on the principles of allowing maximum light to enter and reflect out of the diamond. In order to achieve this, the setting required would need to hold the center stone securely in place with a minimal amount of metal used.
This led to the creation of an elegantly designed 6 prong solitaire setting with a simple knife-edge shank. In the center of the ring, a handcrafted head with V-prongs is custom made to provide an exact fit for the diamond.
From the side profile of the Tiffany setting, you will be able to see the culet of the diamond as if it is magically floating in place. Another feature of the Tiffany design is that the center stone is often set very low and just above the finger the ring is worn.
Where Are the Best Places to Buy a Tiffany Setting Replica?
While most jewelry stores offer similar-looking Tiffany engagement ring settings, it will never be an exact 100% identical design like the Tiffany setting. That's because Tiffany & Co has trademarked their prong design.
As a result, you will notice that other retailers have slightly different versions of the design. Also, you should know that not everyone makes them with the same level of craftsmanship as Tiffany & Co does.
With that in mind, here are some of the best Tiffany inspired solitaire ring settings you can find in the market without the excessive brand premium.
---
Well-known for their user-friendly and amazing shopping experience, James Allen is a retailer that has made its mark in the industry with their HD video technology. James Allen's knife-edge 6 prong Tiffany style ring design offers consumers a highly affordable option and you can review the purchase I made in the video above.
---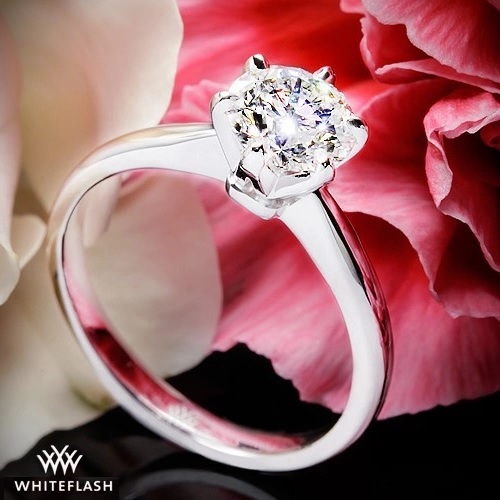 White Flash's rendition of the classic Tiffany setting engagement ring is simple and sleek making it impossible not to love it. The center stone is set low with 6 finely crafted prongs gripping the diamond in place. This ring eludes class and style at first sight.
---
Perhaps one of the closest to the original design you can find in a Tiffany engagement ring replica, this Brian Gavin platinum knife-edge setting is spectacular in its own rights. The head of this setting is meticulously handcrafted in their workshop by a skilled craftsman.
Where Can You Buy Similar Rings to the Tiffany Soleste?
In a nutshell, the Tiffany Soleste is a halo ring design with a pave set shank. Personally speaking, I prefer the Soleste design over the traditional solitaire design because of the multi-dimensional sparkle provided by melee diamonds.
Listed below are some of the best non-Tiffany alternatives to the Soleste collection available in the market. In fact, I have bought a number of rings that look very similar and if you are interested, you can see full reviews in the corresponding links.
---
This superbly crafted halo diamond ring from James Allen accentuates the size of the center stone and can make a 0.7ct center stone look like a 1 carat size diamond when seen from a distance. The well lined pave shank also draws the eye's attention towards the center stone.
---
A modern and bold creation, this halo diamond ring from Blue Nile features a series of micro pave diamonds that outline the center stone. While this may not be a near-exact replica design of the Tiffany Soleste, the unique floating halo creates a stunning visual effect with its cascading pave shank.
Best Places to Buy Comparable Tiffany Novo Rings
Like the Soleste, the Tiffany Novo collection is just a nice name created by the marketing department for their range of pave set ring designs. Like the solitaire ring designs, pave rings are also very popular amongst consumers and many jewelers offer them.
The key to buying a nice pave ring that lasts for a lifetime is high-quality craftsmanship. Check out these 2 Tiffany style engagement ring settings I recently bought.
---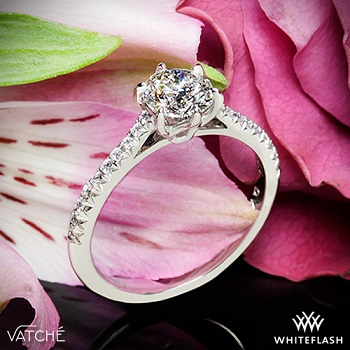 This petite pave engagement ring is purchased from White Flash and is chosen from the Vatche designer collection. With 6 neatly placed prongs holding the center diamond, the ring sits on a cathedral shank lined with paved diamonds.
More importantly, every little detail in the ring is crafted and finished with meticulous perfection and you can see more indepth pictures/video of the ring in this review I wrote.
---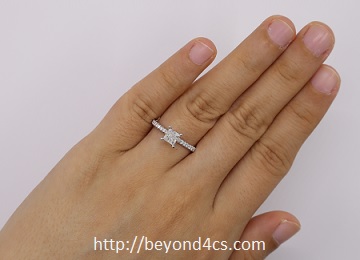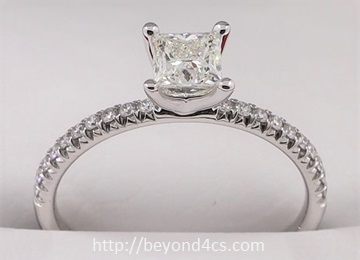 James Allen also has a similar ring design to the Tiffany Novo and the princess cut diamond ring above is a testament to that. This sleek ring design features a French set pave shank that is made with superb consistency.
For a ring with such a high level of workmanship, the price I paid for the entire ring (with a 0.58ct diamond included) is only $2,000. Can you believe that? The thing is, when you shop in the right places, you can get stunning rings at highly affordable prices.
What to Look Out in the Craftsmanship of a Ring
I know it can be difficult to shop for the perfect ring, especially if this is all new to you. While the genuine Tiffany setting engagement rings come with gorgeous diamonds and a good standard of craftsmanship, they also carry a higher price tag and may not necessarily be of higher quality compared to other alternatives.
Basically, I've done the legwork for you to help you sieve out other vendors that offer superior workmanship and high performance diamonds. Here are the things that I personally look out for when reviewing craftsmanship quality:
– Evenly spaced and symmetrical prongs that match the diamond's symmetry.
– Prongs should be thick to provide mechanical strength without being overpowering.
– Shank should be symmetrical and look pleasing to the eyes.
– Melee diamonds must be carefully matched and mounted in a consistent manner.
– The finishing of the ring must be impeccable and prongs should be rounded.
On this note, there are plenty of alternative Tiffany designs and there will always be slight nuances in their design elements. Buying from a reliable vendor that stands behind their product and has a proven standard of workmanship is your best assurance for quality.
Wrapping Things Up: What to Remember When Shopping
Tiffany 6 prong setting replica with matching wedding band.
I hope this write up has offered useful insights into buying Tiffany replica rings without breaking the bank. Now I want to hear from you. Would you pay twice the amount for an authentic Tiffany diamond ring or would you be OK with buying a similarly designed ring at half the price?
Leave a comment below to let me know! And if you have any questions or require assistance to pick out a diamond, feel free to get in touch.
Related Articles