A stunning looking square cut engagement ring from White Flash.
So, the day has come and you are finally ready to buy the perfect engagement ring for your proposal. You know that uniqueness and sparkle are important criteria, and you have finally decided on a square cut diamond ring.
However, there are a few diamond shapes that fall into this category. But what are they and which one should you choose?
In this guide, we will reveal everything you need to know about the different square cut engagement ring styles (with real-life ring designs). You will find out the key characteristics of each cut and what to look out for when making a selection.
Finally, we show you the best places to buy square cut diamond rings where you can get high quality craftsmanship at competitive prices. Let's dive right in…
Here is a list of topics we will be covering:
What Are the Different Styles of Square Cut Engagement Rings?
Square cut diamond rings: Princess cut, cushion cut and Asscher cut.
The princess cut is one of the most popular diamond shapes in the market and offers a squarish outline. It is modern, classic and beautiful all at once. Because of its geometric appearance, the princess cut can be paired with multiple settings and looks great on most people.
The cushion cut is very similar to the princess cut except that the sides are rounded and softer looking. Cushion cut diamonds are sometimes called the pillow cut because of their outline.
The third diamond shape that is typically found in square cut engagement rings is the Asscher cut. Unlike the princes and cushion cuts, the Asscher cut diamond has a step cut facet arrangement that gives it the distinct "windmill" visual effect.
Is a Square Diamond Ring the Right Choice For You?
Well, it is really a matter of personal style and taste. The square diamond ring is a contemporary design that also evokes messages from the past. It is ideal for women with long, slender fingers who want to achieve the look of shorter fingers.
For people who like to mix classic tradition with a bit of punk or a bit of the artistic flair, square cut engagement rings will work well for those who like to make a statement. The key is to find out what your recipient wants.
Besides personal style, there is also a practical benefit of buying a square cut diamond ring especially if you are on a tighter budget. Compared to the traditional round brilliant cut diamond rings, the price of a fancy cut diamond is much lower due to better yield from the polishing process.
If you are comparing diamonds with similar carat weight, color and clarity rating, a square shape diamond typically costs 20-35% less than the traditional round brilliant cut diamond.
Square Princess Cut Diamond Rings Buying Guide
From a technical perspective, the princess cut diamond is actually identified as a "Square Modified Brilliant" in a grading report. The term princess cut was popularized to give the "square modified brilliant" a better sounding name for marketing.
Amongst the different fancy cut diamonds, the square princess cut delivers the best sparkle and performance due to its cutting style. As a result of its superior brilliance, the sparkle helps mask body color and inclusions in the diamond.
This means you can get away with buying lower color/clarity ratings while still having the diamond look identical to another with higher grades.
In general, I would recommend the following criteria for choosing a princess cut diamond if you want an engagement ring that faces up white and is eyeclean.
Cut: Ideal/Excellent
Color: G or better
Clarity: SI1 or better
When buying a square diamond ring, you need to pay attention to the length to width ratio of the princess diamond. Ideally, you want to keep it between 1.00 – 1.05. Anything that's higher than this number will make the outline noticeably rectangular.
As mentioned earlier, fancy shape diamonds are cheaper than round cut diamonds on a cost-per-carat basis. In fact, I recently bought the following diamond ring for less than $2000.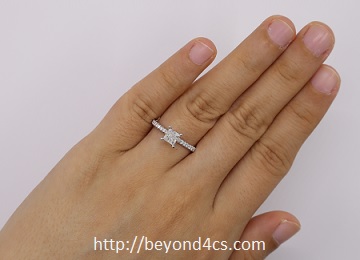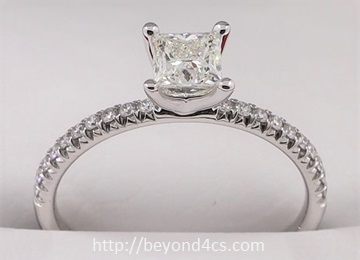 My wife wearing an elegant princess cut engagement ring which only costs $2000!
Many people have the misconception that a square cut diamond ring will be very expensive and that a high clarity/color rating is required for it to look beautiful. That is far from the truth!
Watch the video review I made of the ring below and see how the ring looks like in real-life for yourself.
For this particular ring, I had purposely chosen an H color and SI1 clarity center stone just to prove that it is possible to buy a stunning engagement ring on a budget. Bear in mind that it is perfectly fine to buy a lower color or clarity diamond as long as you know what you are doing.
With square princess cut engagement rings, there are plenty of settings and bands for you to choose from. Personally speaking, I'm a fan of pave and halo settings because of the additional sparkle provided by the melee diamonds but your tastes may differ.
For another elegant approach, nothing looks better than a square shaped stone in a solitaire setting. It gives complete attention to the diamond and is also wallet-friendly. Check out these gorgeous solitaire ring designs from White Flash…
Square Cushion Cut Diamond Rings Buying Guide
The square cushion cut diamond is the perfect choice for people who can't decide between the round and the princess cut diamond. In essence, the cushion cut diamond combines the best of both worlds by providing good brilliance and a squarish outline with a softer appearance.
As they possess very similar attributes to the princess cut diamonds, the guidelines for choosing color and clarity would be identical. I've written a comprehensive guide to selecting a cushion cut diamond and here's a quick summary of my recommendations:
Cut: Ideal/Excellent
Color: G or better
Clarity: SI1 or better
In the market, most cushion cut diamonds are actually cut with a slightly rectangularish outline (l/w ratio > 1.05) and that is something you need to pay attention to when making a selection. For a squarish diamond ring, you need to keep the length to width ratio between 1.00 to 1.05.
With cushion cut diamonds, I particularly like halo setting designs that will help accentuate the outline of the center stone. Since cushion cut diamonds have slightly rounded corners, a halo ring setting can help reinforce a squarish appearance.
Check out this squarish cushion cut diamond with a 0.5 carat center stone I bought for my wife. The other benefit of choosing a halo setting is that it creates the illusion of a large looking center diamond when the ring is seen from a distance.
Square cushion cut halo diamond ring I bought for my wife.
Cushion cut diamonds are very versatile and look great in a wide range of settings. This is where you can really get some individuality going with the ring you choose. Besides the halo ring setting above, here are a couple of my favorite ring designs for a square cushion cut diamond.
Asscher Cut Diamond Rings Buying Guide
The Asscher cut diamond gained its popularity during the Art Deco period where jewelry with geometric patterns are epitomized. With a crisp and angular shape, the Asscher cut diamond displays a windmill effect with a patterning of concentric squares.
Unlike the princess and cushion cut diamonds, the Asscher cut has a step cut facet structure that manipulates light differently from the brilliant cutting styles. This gives it a hall of mirrors visual effect and diminishes its light return properties.
As a result of the step cut, inclusions and color tints may be more visible compared to a princess or cushion cut diamond. In general, these are the guidelines I would recommend when shopping for an Asscher cut diamond.
Cut: Ideal/Excellent
Color: G or better
Clarity: VS2 or better
When choosing an Asscher cut diamond, the windmill effect is the most important thing to take note of. You want to ensure that the concentric square patterns are symmetrical to the eye and the contrast patterning of the diamond isn't excessively dark.
Square shaped engagement rings with open pronged designs tend to work better with Asscher cut center stones. This is because open pronged settings allow plenty of light to enter the stone to maximize its flash and fire.
1 carat square cut diamond ring crafted with 18k white gold – Blue Nile
Another way to make a square shaped Asscher cut diamond ring stand out is to go for different colored metals when choosing a setting. Rose gold is a very popular choice that everyone seems to love and it can help create a vintage vibe when combined with an Asscher cut diamond.
Wrapping Things Up And Shopping For Your Square Diamond Ring
I hope you found this write up useful and gained some useful insights into the various square shaped diamonds and their many styles. Just like how every individual has their own unique personality, engagement rings are also a representation of your own style.
Square diamonds offer a contemporary and refined element to the engagement ring for people who are looking to stand out. If you want something with more flair, you could even consider different metal colors or buying a designer setting.
Regardless of which square shape diamond you choose, bear in mind that cut quality should be where you place your emphasis on. That's because cut quality has the largest impact on the diamond's appearance and sparkle.
With all that said, all that's needed now is for you to have a great time searching and buying your dream diamond ring. If you need help with a second opinion or have any questions, feel free to leave a comment below or drop me an email!
Related Articles