Every love story is special and your choice of an engagement ring should be too! If you are tired of mass-produced designs or want a truly unique diamond ring with a personalized touch, you are at the right place.
A custom made engagement ring enables you to turn your ideas into reality and contrary to popular belief, they aren't reserved for the rich and famous. With modern computer aided design (CAD) technology, costs have gone down significantly and visualizing your dream design is no longer a thing of the past.
In this article, I'm going to show you what happens during the process of custom designing a ring and reveal 3 important tips you need to know when buying a custom engagement ring.
What Happens During a Custom Design Process?
In essence, a complete custom design process can be broken down into 5 main steps:
1) Concept – The first thing you want to do is to establish the main concepts behind your ring. If you need help in getting started, feel free to run through the list of questions below…
How would you want it to look like?
What kind of feel are you going for (e.g. vintage, modern, simple)?
What kind of lifestyle does the recipient have?
Does the wearer perform rough work with his/her hands?
What is your budget?
Are there any design elements you want? (e.g. filigree, milgrain, ring outline)
The goal here is to be specific about what you want. If you still need help with generating ideas or coming up with a concrete concept, visit sites like Pinterest or inspiration galleries to borrow ideas and see what appeals to you.
2) Communication – A picture speaks a thousand words. Once you have a fair idea of what you want, try sketching out the design on a piece of paper before sending the info to the jeweler.
If you aren't good at sketching, an alternative method is to look for similar diamond ring designs that are close to what you have in mind. After that, copy the image into Powerpoint/Microsoft Paint and add in as many detailed descriptions as possible.
Check out an example I did below using Microsoft Powerpoint. I used an existing design that resembles what I want in the final product and clearly indicated the areas which required changes.
The point here is to be able to communicate your idea to the jeweler effectively and to make sure that he/she understands your general concept.
3) Design Finalization – Once the jeweler has a rough idea of what you want, they might take 3-4 days to work on a refined drawing. This is usually done through the use of hand sketches or CAD modeling.
Personally, I prefer jewelers (like Brian Gavin and White Flash) that work with CAD images as they offer realistic and multi-angled views of the ring design. This would greatly help you in the visualization of the ring design.
To illustrate this, here's an example of a CAD design created by BrianGavinDiamonds for one of their customers…
CAD rendering of custom built split shank ring.
Once you have the rendered images, you will now be able to make fine tunings or changes to the design if required. At this stage, the final price of the ring would also be determined and confirmed.
4) Wax Models – Once the final phase of design tweaking had been performed, a wax model of the ring would be created. And here's where the fun begins. You could drop by the jeweler's store to check out the wax replica or request the wax model to be mailed to you (for online shoppers).
Wax model of fabricated design.
Trying out the wax ring on your finger.
After you tried on the wax casting, it is still possible to make further changes at this stage. If you don't like what you see and want to fine tune the design even further, this is the time to iron out the final details.
5) Final Go-Ahead – With your approval, the jeweler would proceed to fabricate the actual ring based on your choice of metal and it will be shipped to you upon completion.
So, here you have it, this is the 5 step process of what happens when you buy a custom made engagement ring. Note that some of the steps may vary slightly depending on your choice of jeweler and design specifications.
3 Important Tips to Buying a Custom Design Ring
If you are like most people, an engagement ring will be one of the biggest and most important purchase you would make in your lifetime. Speaking from experience, I know there will always be an element of uncertainty when it comes to making a custom-design ring.
In order to ensure you have an amazing experience, I've included 3 important tips to bear in mind before you commission a custom project.
Tip #1 – Start As Early As You Can
Realistically speaking, a custom-made engagement ring will take at least a couple of months for completion. You need to factor in a comfortable amount of time taken for your research, idea generation, sketches, CAD designs, mold making and the creation of the final ring.
Starting early will reduce the stress of making something in a rush and allow you to enjoy the process. Having more leeway in your deadline would also help mitigate any last minute changes or issues that may crop up.
As a guideline, my recommendation is set aside a deadline of 3 months for the entire process.
Tip #2 – Find the Right Jeweler With the Right Skillset
There are plenty of jewelers who claim to provide high quality custom designs but only a handful are truly masters in what they do. If you are interested in working with a particular jeweler, ask to see some of their previous work. This will give you a better idea of their style and design work.
In my opinion, good customer service and communications skills are also important attributes of a good custom jeweler.
From experience, I know many people may feel intimidated when speaking to an experienced designer and it doesn't help if your jeweler has an atrocious attitude.
I'm highlighting this because I've come across "well known" designers with obnoxious attitudes. Even if they can produce good quality workmanship, my advice is to avoid jewelers you cannot "click" with.
The bottomline is, finding a jeweler who is patient and offers timely customer service will make the overall experience enjoyable.
Tip #3 – Planning Ahead – Do You Need a Wedding Band As Well?
A custom made ring will usually feature a stand-alone design. If you also intend to buy a wedding band, you should consider how the wedding band would match the engagement ring when they are worn together.
The best way to mitigate future problems is to have the wedding band custom designed together with the engagement ring. Doing so will enable you to get a better matched pair of rings and it may even be cost-effective to do so!
Summary – Should You Buy a Custom Made Ring?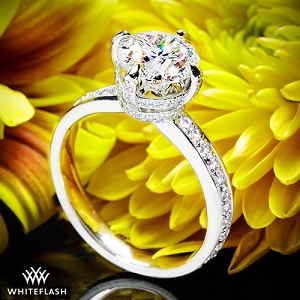 Going for a fully custom made engagement ring will give you the freedom to create a piece of jewelry tailored to your specifications. However, it also requires more involvement on your part and a longer time frame from start to end.
Based on my experience with helping readers, most people wrongly assume that it is a necessity to go for a made-to-order ring just to get something unique. Sometimes, all it takes is a minor tweak or modification to an existing design without undergoing a full-blown custom job.
With that, I hope this article has offered useful insights and helped you gained a better understanding of the custom-made process. If you still aren't sure whether a custom engagement ring is for you, feel free to get in touch by leaving a comment below.
Related Articles