While the grading report is a very important document, many people do not fully understand every feature that is detailed on the certificate. In this article, we'll discuss the contents and remarks made under the 'Other Comments' section. 
The 'Comments' or 'Other comments' section on a report is reserved for stuff that the laboratory want you to know but cannot be put within the report's format. Broadly speaking, most of the information placed in the comments section is regarded as minor and don't usually impact the appearance of the diamond.
With that said, there are cases whereby comments are deemed acceptable and unacceptable in my professional opinion. Whether a comment is malignant and benign largely depends on which lab graded the diamond, the size of the stone, clarity grades assigned and depends on a case by case basis.
Here Are Some Examples of Comments That Are Generally OK:
Additional clouds are not shown / Additional pinpoints are not shown – This indicates the presence of inclusions that are plotted on the diagram because of their sheer number or minute sizes. Typically, these comments will usually not impact appearance and are already accounted for when a rating is assigned for clarity.
Surface graining is not shown – This statement refers to the presence of irregularities in the diamond crystal during the growth process. Surface grain lines are usually transparent and faintly detected even under 20-30X magnification.
Internal graining is not shown – Like surface graining, the distortion of growth planes in the crystal lattice can result in faint lines within the diamond. Internal graining is a feature that is hard to observe even under magnification. Detection usually depends on the viewing angles and lighting conditions.
Minor details of polish are not shown – A typical remark found in the Internally Flawless grade, this is a non-issue and serves to differentiate a flawless from an internally flawless diamond.
Additional twinning wisps not shown – Typically found in slightly included (SI) diamonds, twinning wisps are caused by changes in direction during a crystal's growth.
As I mentioned earlier, every diamond is different. For clarity grades of VS2 or better, you will most likely be safe. If you see such comments on your GIA report for stones with SI1 or lower, my best advice is to get someone trained to eyeball the diamond before purchase. In severe cases, factors like additional clouds or internal graining might make a diamond appear hazy and this is something that you can't tell from a piece of paper.
Comparison of 2 SI1 Diamond Inclusion Plots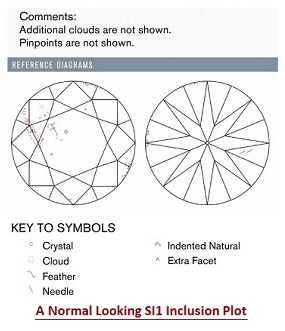 Both Diagrams Show SI1 Diamonds That Weigh 0.70 Carats

If you are purchasing SI clarity stones and the inclusion plot looks amazingly clean with little or no inclusions except for the comments above, it requires a careful examination of the stone. In my experience, I had come across many SI diamonds that appear to have very clean plots and yet appear milky in real life.
The rule of the thumb is, you can't game the GIA/AGS grading system. There is always a reason for a diamond to be graded as a slightly included stone. If an SI stone has a nice neat inclusion plot, most of the time, the flaws are usually more serious than you think it is.
These Comments Should Raise a RED Flag!
Crown angles greater than 40 degrees – Comments about crown angles and related remarks to cut proportions are significant issues to beware of. They usually indicate that the stone's cutting is perform to extremes and are telltale signs of poorly made diamonds.
Internal laser drilling not shown – Be on the lookout for remarks and any mentions of laser drill holes. The presence of these features indicates a clarity enhanced diamond and that the stone was treated artificially.
Beware of Grade Setting Inclusions And Statements
We are standing on thin ice here. Grade setting inclusions and statements should be avoided for diamonds with low clarity grades. For example, the sentence "Clarity grade is based on clouds that are not shown" in an SI2 stone is the unholy stamp of death.
Brilliance and dispersion suffers because the cloud inclusions occur at so many locations throughout the stone such that it is no longer feasible to plot them on a 2D diagram. There is a 99% probability that the diamond will appear hazy or milky due to this remark because the inclusions affect the pathways of light transversing through the stone.
For diamonds with VS2 or higher grades, such comments require a case by case analysis. The best way to determine any negative effects is to examine the diamond physically and seek the help of a professional. Similar to the point mentioned above, there are other similar examples that require you to view a particular stone in suspicion:
– Clarity grade is based on feathers that are not shown.
– Clarity grade is based on internal graining that are not shown.
– Clarity grade is based on pinpoints that are not shown.
– Clarity grade is based on a patch of color that is not shown.
Grade setting remarks like patches of color are uncommon occurrences.
Paying Attention to Details Helps
I want to stress the importance of asking the jeweler for clarification if you see anything that isn't clear. If the jeweler himself is unsure or gives an ambiguous answer, switch your jeweler or opt for an independent appraiser. At no point in time should you buy such diamonds blind and take up the additional risks of a problematic stone.
To conclude, you should always take extra care in reading the entire grading report. Many people simply skim through a report and bypass reading this section all together. Remember, you are paying significant amounts of money for a diamond and every single detail matters.
I believe I had covered and touched on the majority of comments used by laboratories. However, if you come across other comments that aren't listed here or if you need my second opinion on a stone, feel free to leave me a message below.
<< Prev Page
Related Articles