There are basically 3 types of girdle finishing you can find in diamonds: faceted, polished and bruted.
Interestingly, the type of girdle finishing has no effect on the brilliance or optical performance of a diamond. If you had read up our entire section on cut, you would know that brilliance is largely determined by factors like cut proportions (e.g. pavilion angles, crown angles, table size, girdle thickness etc…).
So, if girdle finishing doesn't affect the sparkle of a diamond, why would it matter if it was faceted, polished or bruted? In this article, we will find out how the various finishings look like and what are the things you should look out for.
What is a Bruted Girdle Finishing?
Just a few decades ago, almost all round brilliant diamonds have a bruted girdle because of the way diamonds were cut. This frosty appearance is created when a rough stone is rounded against another rough stone in a process called bruting.
A bruted girdle looks rough and "porous".
In severe cases of the bruting process, a "bearded girdle" can form and the diamond's surface resembles the appearance of a man's beard. On a micro-scale level, the bearded girdle has many tiny feathers which give the diamond an opaque and frosty appearance.
In badly worked diamonds where the girdle is cut too quickly and with too much pressure, the feathers can extend into the diamond's body and become severe enough to be marked as inclusions.
I would go on the record to say this: having a bruted girdle is no reason for joy because it represents sloppiness in the cutter's workmanship. This is because subsequent cutting can usually remove the rough, granular surfaces with little loss of weight. Because of this, there's really no reason for a cutter to leave it in that rough, unfinished state.
Bearded girdles should also be avoided due to the numerous "miniature cracks" around the diamond. This is because there is a likelihood of them growing into larger ones should there be accidental impacts.
What Are Polished And Faceted Girdles?
A polished girdle finishing means that the entire girdle is polished into a single large and clear facet which enables you to see through into the diamond's body. The surface area of the girdle is smooth and continuous all the way around the perimeter of the diamond.
A polished girdle is smooth and reflective.
---
The most common type of finishing found in modern-day diamonds is the faceted girdle. Basically, a series of very small facets are made around the entire circumference and this faceting process removes tiny feathers caused during the bruting process.
One advantage with a faceted girdle is that it blends in well with the rest of the diamond when light reflects on it.
Here, I want to point out that gemological labs like GIA only evaluate the thickness of the girdle when assessing cut quality and not the appearance of it. The reason why diamond cutters put in additional time and effort for girdle finishing is purely based on the notion that consumers have a preference for it.
What's My Personal Preference for a Girdle's Finish?
Personally, I prefer a faceted girdle as it gives a cleaner and more complete look to the diamond.
My wife wears a heart shaped diamond with a slightly thick – thick faceted girdle. Mounted in a prong set basket setting, the diamond is set pretty high and this exposes more areas of the stone to capture and reflect light.
In casual observations from the sides of the ring, you can sometimes see light reflecting off the girdle due to the presence of the tiny facets. To me, that is an added benefit of having faceted girdles.
Here's the bottom line.
If a diamond you shortlisted for purchase has a bruted girdle, I personally feel that it would be a deal breaker unless you are buying an antique diamond or estate jewelry. The thing is, we are in the 21st century and machining equipment is easily available anywhere in the world.
There is no excuse for a cutter not to touch up the girdle for a more presentable look. Having either a polished or a faceted girdle would be OK but leaving a bruted girdle on a finished product is a sign of sloppiness I cannot cordon.
To wrap things up, I hope you found this write up useful. If you have any questions, feel free to leave a comment below and I will help you out!
Lastly, I'm going to leave you with a couple of stunning diamond engagement rings I recently came across from WhiteFlash.com. If you are interested to find out more, click on the images to get details.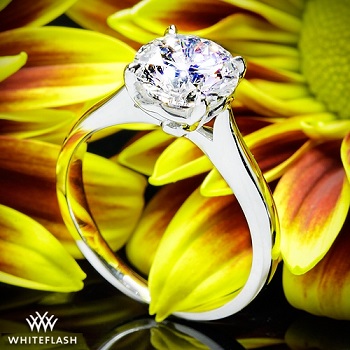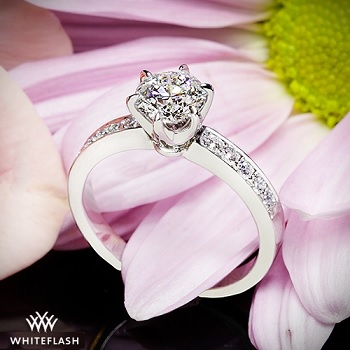 Related Articles