Alright, this post is specially written for readers who have queries about diamonds in the slightly included grades. Some of the most common questions I had received via emails are as follows: "What's the difference between SI1 and SI2?", "I had read in some forums and websites that I should stay away from SI1 to SI2 grades when buying online, but it seems that you are actually advising people to buy in this range. Why?" plus a ton of other related questions. 
First of all, I would like to clarify that buying slightly included diamonds is one of the best methods to stretching your money for value. That is the primary reason why I recommend them since most people do work with a limited budget. However, the key point to take back here is you need put in some effort to select the ones which are eye-clean (no visible inclusions with the naked eye) and never shop blindly.
Clarity Grading is Relative to Carat Size
Do note that your game plan should change if you are considering diamonds that are larger than 1.50 carats. When it comes to bigger stones, a higher clarity grade is usually required for the diamond to stay eye-clean.
Also, I need to re-emphasize the point that clarity grades can fall within a "band". For example, a graded stone could be on the higher band of SI2 (closer to SI1) or on the lower band of SI2 (closer to I1). Ultimately, it is the amount and type of inclusions which causes a diamond to be placed in a particular clarity grade. Very often, the locations of flaws will play a big role in defining whether a diamond is eye clean or not.
Comparisons of SI2 Emerald Cut Diamonds
For educational purposes, I am going to show you some examples of diamonds you should look out for and those that you should avoid. First of all, let's take a look at the following emerald cuts which are both graded with an SI2 clarity rating.
This SI2 emerald cut diamond has inclusions well spread out across the gem and is eye-clean.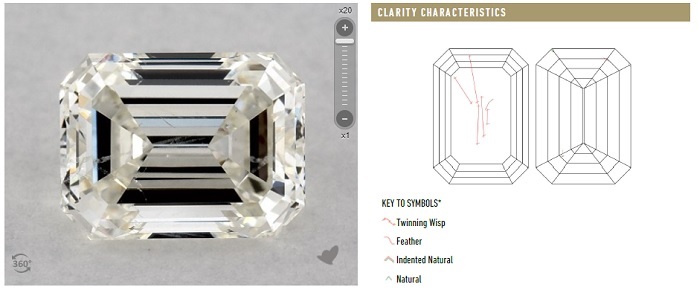 The cloud and crystal inclusions under the table facet will be very obvious to the naked eye.
Comparisons of SI2 Round Brilliant Cuts
Due to the nature of the brilliant cut, round diamonds can be more forgiving with clarity grades. With better optical performance, the fire and scintillation of an ideal cut round diamond can help mask inclusions compared to step cuts like the emerald or asscher. However, that's not to say we can just go out and randomly pick the first ideal cut round diamond we see. You still need to exercise caution!
Super obvious crystal inclusion – Buying 3 diamonds for the price of one…
---
A combination of clouds, feathers and crystals kills it for this example…
---
This is another example showing visible inclusions under the table.
---
Here's an eye-clean SI2 diamond even though the grading report shows a scary looking plot.
Photographs of SI1 Clarity Diamonds
By now, I hope I had driven home the idea that viewing a magnified photo or video is critical in helping you make selections. To complete this round up, here are some examples of SI1 diamonds which aren't eye clean.
* When browsing through diamonds, you can make use of the clarity plot as a reference to compare images and also as a tool to orientate yourself.
Do note that these images had been magnified many times. In real life, the black crystal inclusion would look like a speck of dirt on the diamond's surface. Personally, I would pass on this option as there are far better alternatives out there.
In the next example, a cloud of dark particles underneath the table facet makes it a poor choice.
---
Surprise! This Messy Clarity Plot Actually Yielded an Eye Clean Diamond
For people who want to maximize their budget for a bigger and better cut stone, clarity is an aspect that you can compromise on. You don't really need a VVS1 diamond when an SI1 diamond can look just as good in person. The only catch here is that you need to do your homework before making a purchase.
Remember, diamonds are not created equal. Even if 2 stones look very similar on a piece of paper, they might look very different in real life. As you can see above, inspecting a diamond with magnified pictures or videos will reveal a lot of details about the stone.
Finally, don't be afraid of getting diamonds in the lower clarity grades. As long as you are clear about what you are doing and had seen it under magnification, you won't have a shocker when you receive the stone.
With that, you have now completed your education on the fundamentals of diamond clarity. Well done! My next recommended reading for you is to check out our step by step guide on choosing a diamond. If you have any questions, feel free to ask them in the comments area below.
Related Articles