Vera Ellen Wang was the child of Chinese immigrant parents who established roots in New York City during the 1940s. She started her career as a fashion editor at Vogue and later, opened a bridal boutique after discovering a knack for designing wedding dresses.
Her uniquely beautiful wedding gowns garnered a lot of attention and she soon found herself a huge Hollywood following of well-known celebrities. Today, Vera Wang is arguably one of the most prominent bridal wear designers in the USA and she has won a number of accolades for her work.
Besides bridal wear, Vera Wang also expanded her empire from designing lingerie, fragrance, jewelry, home products and even eyewear. In recent years, she has also collaborated with Signet Jewelers (Zales, Jared, Ernest Jones) and Kohl's to launch her signature line of diamond engagement rings.
And that's what we will be focusing on today. In this article, we will review Vera Wang engagement rings and take a deeper look into their product quality and designs. We also take a look at their prices and perform some comparisons to help you determine if they are worth it or not.
Let's jump right in…
Here is a list of topics we will be covering:
Vera Wang LOVE Collection Engagement Rings Review
Each ring in the Love collection will be engraved with a Vera Wang Love logo.
Vera Wang is one of the world's most renowned and brilliant bridal wear designers. When it comes to her signature Love collection of engagement rings, you can see her personal expertise and creative touches being infused into the designs.
One thing that I noticed when I reviewed Vera Wang's Love collection is that the ring designs all have the bling factor turned up. Almost every ring I come across has lots of embellishments and is adorned with a load full of melee diamonds. And this can sometimes be as much as 1.00 ctw of melee diamonds being used in some settings.
A distinct feature that is found in all of Vera Wang's engagement rings is the unique blue sapphire that is set in the side profile of the head. This blue sapphire is a symbol of everlasting love and gives a Vera Wang ring its iconic look.
The princess cut blue sapphire that is visible from the side view of a Vera Wang ring.
Most of Vera Wang's pieces feature a halo or double-halo around the center stone to make it appear larger and the shanks are usually lined with pave diamonds. This combination of halo and pave set melee diamonds on a ring offer a big sparkle factor.
When crafting rings, Vera Wang states that her designer collection will be set with a minimum requirement of SI2-I1 quality and the diamond color used will be of near-colorless H-I quality.
When I performed this review and checked out their rings, I also found that the Love collection is offered in 14k white gold by default. And based on the marketing material that was provided, these material specifications were purposely kept in the lower tier of the spectrum to keep manufacturing costs low.
As an astute diamond ring shopper, these details are very vague. What does it mean when a minimum clarity of SI2-I1 is used? What exactly am I getting when the ring is being described as near colorless? And that brings us to the next part of the review: how does the quality of the rings stack up?
Reviewing the Quality of Vera Wang Diamond Engagement Rings
During the course of performing this review, I've examined a total of 5 different Vera Wang ring designs in person. The workmanship of the rings (i.e. polishing, prong placements, alignment, shank consistency and etc…) are pretty good and it is acceptable by my strict standards.
In fact, I'm pleasantly surprised to find that they were pretty well made and the craftsmen did pay attention to details on the finishing of the rings. However, what I found sorely lacking was the use of low quality diamonds.
This is actually a common phenomenon that plagues a lot of designer brands and even the bigger ones like Cartier and Tiffany. To be clear, I'm not saying the quality of diamonds used in Vera Wang is on par with those found at big international brands. They are actually of much lower specifications.
Using listings from Jared and Zales, let's take an in-depth look at a couple of listings to illustrate this.
1 1/2 carat total weight 3-stone diamond ring on sale for $4,799.99 at Jared.
First of all, you will be faced with a whole chunk of text when you click and look for additional information in the listing details. Whether you shop at Kays, Zales, Jared or any other big brand names like Tiffany, you need to cut through the marketing fluff and look at the details that really matter.
While this is an impressive-sounding 1.5ct carat total weight diamond ring, the size of the center stone is only 0.5 carats. The remaining 1 carat weight is made up of the tiny diamonds found on the ring. What is confusing to me is the line "Stone Carat Range" which makes no sense when they put an entry of "Over 1".
Having been in the industry for years, this "Stone Carat Range" description perplexes me. What exactly is over 1? Does it refer to the size of the center stone which is clearly wrong because it is stated that the center stone will be 1/2 carat in weight?
Does it refer to the sum of all the melee diamonds? If that's the case, should it be "Stones Carat Range" instead of "Stone Carat Range". The conventional way to do this is to use ctw if that's the case. Either way, the math just doesn't add up right to me and I'm assuming there's a typo in the listing.
Moving on, the color and clarity of the diamonds used are stated to be I color and SI2 clarity respectively. However, you need to be clear that this is not based on GIA's grading standards. Instead, there is no 3rd party grading certificate for the ring and the quality is what the jeweler (with a vested interest) claims it is.
When I asked about this in the physical store, I was shown a piece of generic looking document that states that the "diamonds meet the minimum requirement of near colorless and SI2-I1 clarity". This is the "certificate" that will be provided upon purchase.
When a jeweler doesn't provide a GIA/AGS report as a reliable source of grading, you must take the stated quality with a pinch of salt. Based on experience, these grades are likely going to be inflated and this means you have no idea what you are buying exactly. And if I am being conservative, I would expect the true quality of the diamonds to be closer to I1 clarity and J-K color.
Over at Zales, you would be able to get a certified diamond when buying a Vera Wang engagement ring and this is an example of a listing that I found.
This Vera Wang ring is listed at a price of $8,895.20 and features a 1 carat size center diamond. As you can see above, the clarity and color of the diamonds are SI2 and I respectively. Again, this is very similar to that found in the previous listing at Jared.
The thing that stands out when buying from Zales is that the diamond rings come with a Jewellery Identification Report from the International Gemmological Institute (IGI) or Gemological Science International (GSI).
While Zales uses this document to market their product as being a "certified diamond", you need to understand that this is NOT the equivalent of a proper GIA/AGS grading report. Here's how a copy of a GSI report of a Vera Wang Love engagement ring looks like:
Photograph credits: Gemsciene.net
In the industry, the proper way to perform an accurate grading of a diamond is to assess it when it is loose (unmounted form). That's the only method that a reliable laboratory like GIA or AGS will accept a diamond for accurate grading. While the GSI report above does state "Center diamond graded and weighed prior to setting", it does not provide important details like the diamond's clarity characteristics.
Having the description of the center stone lumped in together with an assessment of the ring setting performed using different methodologies (center stone is graded unmounted while the melees are assessed differently) makes the reported information confusing and inconsistent.
As a professional with years of experience in the industry, I can tell you that this type of assessment holds little weight and it is no secret that the GSI lab isn't on the same standards as GIA/AGS. More importantly, there is no assurance of getting an eyeclean diamond when I make a purchase.
You see, SI2 (or I1-I2) clarity diamonds have a wide range of appearances and that's when we are talking about properly graded GIA stones. With a GSI diamond, it's only reasonable to expect inclusions to pose issues to its visual appearance. Here are 2 GIA certified diamonds to illustrate what I am saying.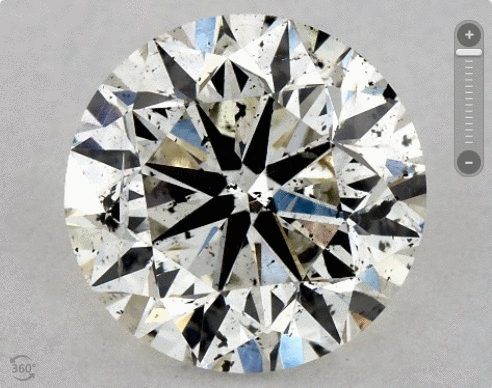 Would you like to roll the dice on the type of SI2 diamond you will get? I don't.
And mind you, these are reliably graded SI2 clarity diamonds by GIA. You can expect the "true" clarity grade of diamonds with unreliable grading standards to look worse and receive a much lower clarity grade if the same stone was graded by GIA.
Having low color/clarity diamonds mounted into the preset rings also means that the shopper has no choice but to accept the quality of the diamonds used. To me, that's akin to buying a Mercedes car that comes with a Honda engine.
If Vera Wang rings were "powered" with better quality diamonds, they would be a more compelling buy and provide better assurance of what the consumer will be getting.
Are the Prices of Vera Wang Rings High or Low? Worth It Or Not?
The designs in the Vera Wang Love collection span across a variety of styles and price points. From simple solitaire rings to more complex 3-stone settings, there are a number of choices for people with different budgets.
In general, the prices of engagement rings start from $1,999 while the wedding bands start from $649 and can go much higher depending on the intricacy of the ring setting and diamond carat sizes. So, are the prices of Vera Wang rings expensive or cheap? Are they worth it or not?
Let's perform some comparisons to find out.
Here's a listing from the higher end of the price spectrum which features a double halo and swirly ring shank. A large GSI graded 1.5ct round cut diamond is used as the center stone with a stated I color and SI2 clarity. The cost of this ring is $14,223.20.
In comparison, I found a similar designer ring at Blue Nile and even took the liberty of choosing a decently cut GIA certified diamond as the center stone. Here's a breakdown of the total costs involved when creating the ring and if you are interested in more details, feel free to click on the images for more information.
The total cost of this Monique Lhuillier designer ring is $10,186 ($2,760 + $7,426). That's close to 40% cheaper than the Vera Wang engagement ring! In fact, I could even argue that the center diamond has much better quality as it is accurately graded by GIA. I've also picked the stone for its decent light performance and eyecleanliness.
---
In the lower price spectrum, I've found this dainty looking Vera Wang 1 ctw diamond frame ring at a price of $2,671.20. The center stone is a 3/8 ct round diamond that has an I color and SI2 clarity grade from GSI laboratory.
To perform a price comparison, I used a similar looking ring from James Allen and selected a 0.45ct GIA certified center stone. Again, this is a diamond that is accurately graded by GIA and has a larger carat size compared to the 3/8ct center diamond used in the Zales ring. It is eyeclean and has decent light performance as well.
The point I am trying to make here is that I am picking a center stone from James Allen that will cost more and is technically better than the center stone provided by Zales. Even in this scenario, the total cost of the ring only comes up to $2,050 ($620 + $1,430) which is 30% cheaper than the Vera Wang ring.
As you can see, the Vera Wang diamond rings were more expensive than similar looking rings that can be found elsewhere. However, if you were to compare Vera Wang ring to Tiffany or Cartier, they would be much cheaper on a relative basis (~30% cheaper).
Overall, I would say the prices of Vera Wang engagement rings are somewhere at the middle ground. In the world of designer rings, they aren't the cheapest nor are they the most expensive in the market depending on who you want to compare them with.
Vera Wang Love – Custom Design Your Engagement Ring Review
Did you know that the majority of engagement rings sold in the market are actually preset? Basically, this means that the engagement ring already comes with a pre-selected diamond and you can purchase it off-the-rack. And that's how most Vera Wang engagement rings are sold in stores.
For the record, I am not a fan of buying an engagement ring in this manner. Granted, a preset diamond ring can make the entire shopping process easier by taking the pressure off comparison shopping and choosing the center stone.
However, buying a preset ring would mean giving up control over what goes into the engagement ring. This means you have to be OK with buying a non-GIA certified diamond, have no say over the diamond quality used and roll the dice to getting a decently cut/eyeclean diamond.
Recently, I found out that Zales offers the option of customizing a Love by Vera Wang signature engagement ring and it piqued my interest to give it a try. Here's a review of how the process looks like.
Unlike preset rings, you get to choose from 1/4, 1/2. 1, 1-1/2 and 2-carat size diamonds and between SI2 and VS2 clarity grades. In the example above, I chose a 1-carat size center diamond with SI2 clarity. Next, you can also choose the type of head, mounting style and choice of metal for your setting.
The customization route for buying a Vera Wang engagement ring does open up more options that you can't get from off-the-rack designs. With the customization, you will be able to purchase a Vera Wang ring that is made from platinum instead of the default 14k white gold option.
You also get the option to customize smaller details like the metal used for the head and setting separately. For example, you could choose a rose gold metal shank and pair it with a white gold prong mounting to help the center diamond look "whiter".
With the customization option, there's a lot of different combinations that you can try out to find one that you like. Zales also makes it easy for you to preview the ring in real life and visualize how your creation looks like. In my opinion, this is a start in the right direction but more needs to be done to capture discerning shoppers.
Where to Buy Vera Wang Wedding Rings?
At the time of writing this review, Vera Wang diamond rings are sold exclusively at a few jewelry chain stores like Jared Galleria of Diamonds, Zales, Ernest Jones (UK), Peoples Jewellers (Canada) and Kohls. Basically, most of these stores fall under the umbrella of brands owned by Signet Jewelers.
If you are looking for a second-hand ring, there are places like eBay, Craiglist and pawn shops where you can find people who are looking to sell their Vera Wang wedding rings for cash.
Here, I do want to point out that jewelry stores like Jared and Zales offer a 30 day money back guarantee for none-customized items. This return policy gives you a risk-free shopping experience that you don't usually get when dealing in the secondary market.
Summary – Vera Wang Engagement Rings: Good or Bad?
Overall, the pre-set Vera Wang diamond rings provide a certain level of convenience but it comes at a compromise and a big element of uncertainty. They would be much better buys if Vera Wang had used center diamonds that are certified by GIA or AGS instead of a lab like GSI or IGI.
Vera Wang is touted as a designer brand that is affordable and accessible to the average consumer. Is that true? Well, it depends on how you look at things. When I looked at the preset rings available at Zales and Jared, I would say that the price of a Vera Wang ring isn't expensive compared to other designer brands.
However, when you take things apart and look at individual elements, I find that the cost of a Vera Wang setting is less expensive if you compare it to brands like Cartier and Tiffany. They do cost a little more compared to most off-the-rack designs but that's fine.
In my opinion, the let down is the choice of diamond quality that is used in their rings. The lower quality diamonds definitely play a role in moderating the total cost of the ring downwards which puts them in the category of having "above average" costs.
Personally, I like their ring designs (because of my bias towards pave/halo rings) and I find their workmanship standards to be good. However, due to the lack of clarity (pun intended) and low quality center stones used, I would not buy a Vera Wang ring because I know I can get better value for money and higher quality stuff elsewhere.
If you really like the Vera Wang brand, I would recommend going the customized route where you get the option of using better quality diamonds. That's actually something positive that I see as the brand evolves with its collaboration with Zales and Jared.
Now I want to hear from you. Did you find this Vera Wang engagement rings review useful? Do you like the designs of their rings and would you buy one for yourself? Leave a comment below and let me know!
*UPDATE Aug 2020 – Vera Wang WISH® Collection Review
I was browsing through Jared's website recently and noticed that they launched the exclusive Vera Wang WISH® collection back in December 2019. So, I've added this section as an update to the Vera Wang review I wrote previously.
The WISH collection stood out to me because it is as if they've heard the voices of discerning shoppers (or actually read my review) and decided to make improvements in their offerings. In essence, you can now choose a Vera Wang semi-mount (an empty setting without any center diamond) and cherry pick your own loose diamond to complete the ring.
This means you are no longer limited to the preset ring choices that were only offered previously. Instead, you are now able to build your own diamond ring based on your budget and specifications at Jared's. Here's a screenshot of the 3-step process of buying a Vera Wang WISH engagement ring.
Basically, you start off by choosing a setting that you like. After that, you can choose a loose diamond that fits the ring setting of your liking. In the above setting example, you can choose a round/princess/cushion cut center stone that's between 0.45ct – 1.11ct and with any combination of color/clarity you like.
Before you choose your own diamond, I would recommend that you read my step-by-step guide to get a better idea of the things to look out for. In the last step, you can review the completed ring to make sure the details are correct before checking out.
Currently, there are roughly 30 ring designs in the WISH collection you can choose from across different budget ranges. In terms of pricing, I find that the cost of a Vera Wang setting is generally more pricey compared to other brands offering similar looking designs.
To illustrate this, these are similar looking settings from other vendors that I found at much lower prices. For example, this split band diamond halo ring from James Allen costs $2,800 and this split shank halo ring from Blue Nile costs $2,000. Compared to the $4,500 that Vera Wang is charging for their semi-mount setting, the price differences can be as high as 100%.
But to be fair, it isn't an apple to apple comparison because there are design elements that cannot be replicated due to copyright reasons.
If you are someone who loves the characteristical princess cut sapphire or specific design elements in a Vera Wang ring, then it makes sense to fork out the extra money for it.
Related Articles