When it comes to buying engagement rings, more and more consumers are heading to online diamond retailers to make their purchase – and for good reasons. Not only will you enjoy significantly lower prices and wider product selections, there's also no need for you to deal with pushy sales people in traditional brick and mortar stores.
We've scoured the web to find the best diamond retailers who provide top notch customer service and intuitive websites where you can shop with a peace of mind. While compiling this list of the top online diamond vendors, we also took into account various aspects of their businesses; like sales policies, conflict free diamonds, customer support and range of setting designs offered.
---
#1: James Allen – Seeing is Believing
JamesAllen.com is a dream come true for online diamond shoppers. Founded in 2006, James Allen has revolutionized the way diamonds are sold through their exclusive Diamond Display Technology.
Gone are the days where you need to learn how to use a 10X loupe correctly if you want to scrutinize a stone. At James Allen, every single diamond in their inventory is displayed in interactive 360° videos.

Examine thousands of loose diamonds under 20X magnification to find your perfect stone!
You could now inspect the smallest details easily in the comfort of your own home. If that's not enough, the customer support offered by JamesAllen.com is first-class. They have diamond professionals who are on-site 24/7 to assist you with any queries you may have.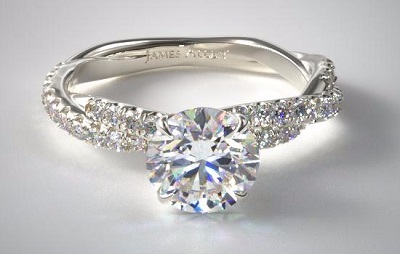 Click here to visit James Allen and experience their awesome website for yourself…
---
#2: White Flash – Ideal Cut Diamonds And Designer Settings
Based in Houston, White Flash is a bridal jewelry retailer who specializes in super ideal cut diamonds. If you are looking for the best of the best in cut quality and precision, White Flash's signature A CUT ABOVE diamonds will knock your socks off.

WhiteFlash.com is a retailer that had won numerous prestigious awards and is trusted by thousands of customers around the world. Notably, they had been awarded the 2015 Pinnacle Award by the Better Business Bureau (BBB) for the tenth consecutive year.
Being in the jewelry industry for years, I can tell you this speaks volumes about their exemplary customer service standards and product quality.
One of White Flash's unique selling prepositions is that they offer a variety of designer engagement rings such as Danhov, Verragio, Ritani and Tacori. Besides designer brands, they also offer a large selection of in-house ring designs for shoppers to choose from.
Click here to visit White Flash and get ready to be dazzled!
---
#3: Brian Gavin Diamonds – Ideal Cut Diamonds And Designer Settings
Brian Gavin is a 5th generation diamond cutter who has built up a massive reputation in the industry. His signature super ideal cut diamonds are some of the most beautiful diamonds I had ever come across.
And not surprisingly, the quality of his diamonds and engagement ring designs have earned him raving reviews from customers around the world.
Hearts and arrows diamonds are Brian Gavin's signature products…
Besides an assortment of top tier hearts and arrows round diamonds graded by AGS, Brian Gavin also carries ideal cut princess and cushion shaped diamonds in their inventory.
As an online diamond retailer, Brian Gavin is uniquely positioned in the market. They also offer specialty diamonds with cool looking fluorescence and warm colored stones to target niche clientele.
Click here to visit Brian Gavin to browse their selections of ideal cut diamonds…
---
#4: Victor Canera – Hand-Forged Jewelry At Its Finest
Based in Los Angeles, Victor Canera is a bespoke jeweler who specializes in both contemporary and old-world diamond jewelry designs. Having spoken to him on a couple of occasions via Skype, I find him to be an easy person to work with because of his friendly personality.
Hand-forged rings that are personally fabricated by Victor Canera
What makes Victor Canera stands out from other diamond vendors is the signature diamonds he offers: the Canera Ideal Hearts – Super Ideal Hearts & Arrows diamond, the Canera Antique Cushion and the Canera European Round.
These are diamonds that are cut to extremely high standards and for the best light performance. Of course, you don't have to take my word for it. All you need to do is to corroborate the reflector images (ASET, Idealscope, H&A) found in the diamond listings and you will see proof of why they possess elite craftsmanship and performance.
A comparison of hearts patterns with Canera Ideal Hearts against generic diamonds in the market.
Now, I'll be honest with you. Victor Canera isn't a vendor who's suitable for everyone mainly because of pricing factors. If you are on a tight budget or looking for mass produced jewelry, you probably won't find what you need at VictorCanera.com.
However, if impeccable craftsmanship and high quality settings are stuff you are looking for in jewelry, Victor Canera is the go-to person. Victor's jewelry may more cost a little more than those offered in the mass-market but the upside is that his hand-forged settings are top-notch and one-of-a-kind.
Click here to visit Victor Canera and find your dream ring today!
---
Conclusion
We have vetted hundreds of online jewelers and handpicked 4 of the best diamond retailers in the world. Not only do they offer better prices compared to traditional jewelry stores, they also offer larger selections for you to cherry pick diamonds from.
More importantly, our recommended online retailers provide more data about their diamonds than your average neighborhood jewelry store. To me, that's one of the biggest plus point of going online. You'll have all the information required to select diamonds cut for the best light performance without a salesperson trying to pester you into a sale at every turn.
Here's a quick recap:
James Allen: 360° videos coupled with free gemological evaluations for up to 3 diamonds make them the recommended place for fancy shaped diamonds.
White Flash: Best retailer for ideal cut round and princess shaped diamonds. Also offers a range of beautiful designer ring settings.
Brian Gavin: For people who expect the best of the best in diamond cut quality. BGD offers signature lines of ideal cut rounds, princess and cushion shaped diamonds.
Victor Canera: The "Ferarri" in the world of hand-forged jewelry settings. Offers hearts and arrows round diamonds as well as specialty old world diamonds with ideal optics.
With that, I wish you all the best in your engagement ring shopping. Remember to have fun!
p.s.: If we've missed an awesome vendor, do let us know in the comments below.
Related Articles