Princess cut diamonds are the second most popular choice for engagement rings and are easily recognizable for their square-cut outlines. Their unique appearance gives them a contemporary and modern appeal.
The princess cut diamond is technically known as a "square-modified brilliant" cut and the extra facets it possesses give it superior scintillation. Besides the sparkle and brilliance that they display, princess cut diamonds are also significantly cheaper compared to the traditional round cut diamonds.
This is because the princess cut diamond achieves a higher yield from a rough diamond where there is less wastage. Due to its lower cost, princess cut diamond engagement rings are affordable options for people shopping on a tighter budget.
In this article, you will find out everything you need to know about buying a beautiful half carat princess cut diamond ring and discover some of the best ring designs that will complement a 0.5ct center stone.
I will also show you how I personally bought a stunning princess cut engagement ring for less than $2,000. Also, make sure you check out the video I recorded to see how the ring looks like in different real-life environments. Ready? Let's jump right in…
How Big Does a Half Carat Princess Cut Diamond Ring Look?
One of the most common questions I get asked is how big a 0.5ct princess cut diamond ring would look like when worn on the hand and whether it is too small/big for the finger. Well, the physical face up size of a 0.5 carat princess diamond is roughly 4.4mm by 4.4mm.
For some visual perspectives, the chart below illustrates how princess cut diamonds of different carat sizes measure up. Do note that a 1.00ct diamond is not twice as big as a 0.50ct diamond even though it weighs twice as much.

I've also included a photograph of a half carat princess cut diamond solitaire ring to give you an idea of how it looks like when worn in real life. I know many people get hung up on buying the largest possible size they can afford while others are contented with a simple no-frills ring.
This simple 4 prong solitaire ring is worn on a size 7 finger and the setting puts the emphasis on the center stone. At the end of the day, whether a half carat diamond is too big or too small is subjective and depends on an individual's values.
Leave a comment at the end of the article to let me know if a 0.5ct diamond is too small, too big or just the right size. I love hearing from readers and finding out what your thoughts are.
How Much Does a Half Carat Princess Cut Diamond Ring Costs?
Assuming you choose a simple ring setting and mid-range diamond, a ballpark figure of roughly $1500 to $2000 would be sufficient to get a beautiful looking ring. Having said this, do note that the actual cost of an engagement ring would really depend on a variety of factors.
This is because the cost of a diamond ring is made up of 2 main components: the ring setting and the center stone. Depending on the intricacy and style of ring you choose, prices can vary. Also, the quality of the center like color and clarity ratings would affect the cost of the center stone.
Here's a price chart that I compiled for 0.5 carat princess cut diamonds of various cut quality, color and clarity ratings to give you an idea of price differences between them. To state the obvious, you will notice that the higher the clarity and color grades, the more expensive the diamonds become.
While carat, cut, clarity and color grades are the more obvious factors that influence prices, there are also subtle reasons like eyecleanliness, color hue and fluorescence that can also affect the price of a diamond.
3 Things to Look Out For When Buying Princess Cut Diamond Rings
Certification – One of the most important things to look out for when buying a half carat princess diamond is to find out if it's certified and whether it has been graded by a reliable lab like GIA or AGS. This gives you assurance of what you are buying and ensures that the diamond's qualities have been accurately represented.
Bear in mind that not all grading reports are made the same. I've seen princess cut diamonds that are sold in large jewelry chain stores with dubious grading certificates (e.g. EGL, GSI) or worse still, in-house appraisals that are issued by the jewelers themselves.
The majority of these labs have inflated grades due to their lax grading methodology to make it seem like you're getting a better diamond at a lower price. In reality, it's the complete opposite.
For example, you are likely offered an I2 clarity diamond that's being sold as an SI1 clarity diamond or being sold a D color diamond that is actually a G color.
Durability – The princess cut diamond is characterized by its squarish outline which features 4 pointed corners. These corners also happen to be the areas that are most prone to chipping because of their weaker mechanical strength.
To protect the edges against chipping, you should always select a ring design that has prongs covering the corners completely. Most ring settings utilize 4 rounded ball or v-shaped prongs to protect the vulnerable tips against accidental impacts.
Inclusions at the bottom left hand corner tip of this diamond are a concern.
Also, I would generally recommend princess cut diamonds that don't have inclusions like large feathers or cavities that are located near the edges. You basically don't want anything that will potentially weaken the diamond's mechanical structure in these areas.
Light Performance – The sparkle and brilliance of a princess cut diamond are things that most people see when viewing an engagement ring. Nobody likes a dull looking or lifeless ring and hence, cut is the most important aspect of the 4Cs you should pay attention to.
But determining the light performance of a princess cut diamond is easier said than done for most people. To get started, read this comprehensive guide I've written here to see how a well cut princess shaped diamond looks like and the kind of proportions you should look out for.
Comparison of a well cut princess diamond against a diamond that is mediocre.
As a consumer, the easiest way to choose a well cut diamond is to buy from a vendor that has transparent sales practices and offers tangible data like videos and ASET scope images. You may also want to stick with diamonds that are graded by AGS as their grading reports provide cut quality analysis and ray tracing data (ASET).
6 Gorgeous Princess Cut Diamond Ring Designs You Need to See
Princess cut diamonds have a geometric shape that is highly versatile and can look great in a variety of ring styles. Here are some of my favorite designs to complement a half carat princess cut diamond and if you are interested in more details, simply click on the corresponding images to find out more.
This petite designer ring from White Flash features an elegant shank with channel set diamonds that accentuate the center stone. Made of 14k white gold, it is superbly crafted and is surprisingly sold at an affordable price point.
---
The classic and no-frills 4 prong solitaire ring design that places full emphasis on the center stone. This setting allows for maximum light return and allows the diamond to showcase its brilliance and sparkle. It is also available in a variety of metals like platinum, 14k white gold and 18k white gold.
---
If you are a fan of blingy appearances, this french-cut pave diamond engagement ring will be a perfect choice for a 0.5 carat princess cut diamond. The flush fit shank design allows easy matching of this engagement ring with a wedding band.
---
This captivating 3 stone diamond ring is inspired by Art-Deco design elements and showcases 2 tapered baguette sidestones that frame the center gem. With a modern looking princess cut center stone, it gives this classic ring a contemporary twist in its appearance.
---
Halo rings are the best ring styles that will help create a large looking diamond ring in a cost-efficient manner. If you are someone who wants a bigger bang for your buck, this floating halo ring from Blue Nile is one of the best options to consider.
---
This ravishing ring features an eye-catching double row of tapered pave diamonds to give it a truly unique look. The tapered shank helps to draw the viewer's attention towards the center stone while providing a magnificent backdrop of splintery sparkle.
How I Bought a Half Carat Princess Cut Diamond Ring For $2000
I know there are plenty of readers who have a smaller budget and I often get asked questions like whether someone can get a nice looking ring for less than $2000. And the answer is yes, you can get a gorgeous engagement ring if you shop in the correct places with the right mindset.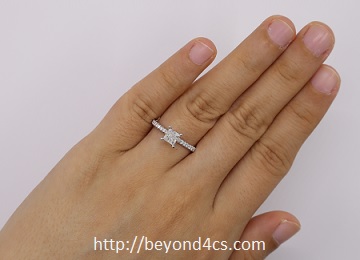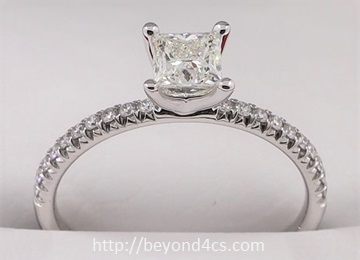 My wife wearing a princess cut pave diamond engagement ring on her hand.
When buying a diamond ring on a budget, my advice is to take on a practical mindset and to avoid unnecessary things that drive up costs. What do I mean by this? For starters, a D/IF diamond is going to cost significantly more than a lower color/clarity diamond and you don't need high color/clarity grades to get a stunning diamond.
In fact, a well cut diamond in the G or H color range with lower clarity grades will look identical to a D/IF diamond to the unaided eye. And that's what I did when I bought a diamond ring for my wife with a $2000 budget. I prioritized light performance over color and clarity grades to get the maximum sparkle out of the diamond and chose a simple pave ring setting to complete the ring.
At the time of purchase, the total cost of the diamond engagement ring comes up to be $2,010 (800 + 1,210). Bear in mind that this is a top of the line diamond when it comes to cut quality and I'm also getting a well-made setting at this price point.
Check out the video below to review the ring's sparkle and workmanship for yourself.
Using James Allen's highly detailed video listing, I was able to select an eyeclean SI1 clarity diamond easily. On top of that, the video listing also enabled me to assess the diamond's light return and scintillation patterning easily.
Exemplary business practices and transparent sales policies that guarantee a risk-free purchase are things you should be looking out for when choosing a vendor to buy from.
Summary – Best Place to Buy a 0.5ct Princess Cut Diamond Ring
I hope this article has offered insights into buying a half carat princess cut engagement ring and given you an idea of how they physically look in real-life. Personally speaking, I find that a half carat size diamond provides a good balance between costs and providing sufficient finger coverage.
It is ideal for people who are shopping with a smaller budget or simply want something that isn't too flashy.
Remember, the key to choosing a beautiful diamond is to focus on cut quality instead of color or clarity grades. Cut determines how much sparkle and brilliance the diamond has and this is one of the first things that people will notice when viewing your ring.
When it comes to ring setting designs, there are literally hundreds of styles to choose from. So, take your time to look at as many designs as you before making a final decision on the perfect design for yourself.
If you have any questions or need help in a diamond selection, feel free to get in touch or leave a comment below. Have fun shopping for your dream ring!
Related Articles