When you go searching for the perfect engagement ring, it needs to be special and unique. Besides having a design you like, the diamond ring should also be affordable and within your budget. After all, there are many more things to pay for after the wedding, right?
When it comes to saving money and buying things at a discount, Walmart is one of the most recognizable names operating a chain of hypermarkets and discount stores. But did you also know that Walmart sells engagement rings?
Yes, that's right. Walmart sells engagement rings in their jewelry section. You can buy one while conveniently picking up a carton of milk and your favorite pack of Snicker bars. But the biggest question is, should you do it?
So, what is the deal with Walmart engagement rings? Are they worth the money to buy? Do you have to sacrifice quality in order to purchase one? These are valid questions and in this write-up, we review Walmart engagement rings and break down the answers in the paragraphs below.
What Type of Jewelry Can You Find at Walmart?
Walmart diamond engagement rings sorted according to their best sellers.
Walmart is a big-box retailer that sells thousands of products and caters as a one-stop shop for customers. From groceries to electronics to jewelry, you can literally find anything in their stores. In their jewelry section, you can find things like bullion, watches, fashion jewelry to fine jewelry across a different number of brands.
The number of selections is massive and in this article, we are going to focus our attention on wedding and engagement rings with diamond center stones. Using their website and search filters to narrow down the selections to diamond engagement rings, I found that Walmart lists more than 1000 products on sale.
Their ring designs range from simple solitaire rings to more elaborate designs and you would probably find a design you like by narrowing down the choices using their search filters.
As an e-commerce store, I would say that Walmart's search functions are well thought out and they make it easy for you to find stuff.
Brands And Selections – What's Available?
First of all, Walmart works with many different suppliers and sellers when it comes to their jewelry department. In the same way that Walmart (akin to a marketplace) carries a variety of cereal brands, there are all types of engagement rings sold under an umbrella of roughly 200 different brands.
On their website, Walmart lists the following as their top brands: Pompeii3, JeenMata, Inara Diamonds, Imperial Diamond, Miabella and Forever Bride. When I first saw this list, I could immediately identify some of them as I had prior experiences with their products and service.
There are a number of brands that I would never even touch with a 5 ft pole and you'll see why later in the review.
And let's face it – Walmart prides itself as a discount store. They aren't known for excellent quality but instead, made their name because of their low prices. For this reason, the vast majority of diamond rings sold at Walmart are priced under $2,000 while a few of the higher-end stuff can go as high as $15,000.
Besides having 3rd party sellers, Walmart also fulfills and sells a portion of the engagement rings themselves. These would include brands like Arista, Miabella, Forever Bride and Imperial Diamonds. They also happen to be listed in their "Top Brands" category.
Review of Quality – How Good Are Walmart's Diamond Rings?
"Price is what you pay, value is what you get." – This is one of my favorite phrases that is coined by investing legend Warren Buffet and it also applies to the world of diamond jewelry. People are attracted to Walmart because low prices can attract attention and garner interest.
So, just how good are the diamond rings sold at Walmart? To answer this question, let's do a review of Walmart's products using a couple of listings from both their external sellers and inhouse brands. I also want you to read this write up on "cheap, wholesale" diamond rings I wrote before returning here.
Wow! Buying a 3/4 carat diamond ring for only $729? Really?
First up is this solitaire diamond ring in 14k yellow gold metal that is sold by Pompeii. At first glance, it looks like a nice looking 6 prong diamond engagement ring and being sold at a really cheap price.
If you didn't know better or have prior knowledge about the 4Cs, you might assume that it looks like a good deal. However, when you take a closer look at the description, that's where the fairy tale comes to an end.
On the product page, this is the exact description that I found when doing this review of Pompeii3's listing: "This classic solitaire engagement ring features a 3/4 ct round brilliant cut natural diamond. The diamond is securely set in a solid 6 prong 14k gold. — Metal – 14k Yellow Gold — Purity – 14k — Color – J-K-L — Clarity – I2-I3 — Style – Engagement Rings/Solitaire — Item # – ENG007514k Yellow Gold 3/4ct Round Solitaire Diamond Engagement Ring Jewelry Brilliant"
First of all, the color of the diamond is listed as J-K-L which begs the question: what exactly are you buying and getting? A J color diamond is completely different from an L color diamond in terms of appearance and value. Obviously, the same question applies to its clarity grade which is listed as I2-I3.
For the record, I2 and I3 clarity grades are the lowest ratings a diamond can achieve and this is literally scraping the bottom of the barrel. In layman's terms, an I3 diamond is industrial grade (unwanted low quality diamonds that get used for industrial purposes like drill bits) and contains inclusions that negatively impact a diamond's appearance and performance.
Yet, the listing on Walmart shows a pristine and almost perfect looking diamond which raises a yellow flag for me. I can assure you that an I2 or I3 diamond will never look like this in real life. It's going to look very very very different.
The other yellow flag that I see with this listing is that this is an uncertified diamond with no accompanying 3rd party grading report from GIA or AGS. From experience, sellers abuse uncertified diamonds by misrepresenting the true quality of the diamond they are selling and if the same diamond were to be graded by GIA/AGS, it is going to be many grades lower.
And here's some food for thought. If an uncertified diamond was already given an I2-I3 clarity rating by the seller with a vested interest, what do you think the true clarity grade of the stone would be after adjusting for artificial grade inflation?
---
IGL certified diamond ring at Walmart.com. Is it any good?
In the next listing, let's do a review of an Arista diamond ring which is listed as a top brand in Walmart's site. The Arista brand is a line of jewelry products that are sold and fulfilled by Walmart. Let's take a look at the description that is found on the product page.
"Make her day extra special with this beautiful Generic 1 Carat T.W. IGL Certified Sol Plus 14kt White Gold Engagement Ring. It features a lovely 1-karat round stone. Elegant and simple, the white diamond engagement ring boasts a lovely band made with 14-karat white gold and prong set diamond. The center diamond is flanked by four sparkling side stones. This round diamond engagement ring comes in a variety of sizes so you can select the ideal fit for her. Make your upcoming wedding the ultimate celebration with this beautiful engagement ring. This Generic 1 Carat T.W. IGL Certified Sol Plus 14kt White Gold Engagement Ring comes in a convenient box.1 Carat T.W. IGL Certified Round White Diamond 14kt White Gold Sol Plus Engagement Ring: 1 ct. t.w. round white diamond14kt white gold Sol Plus ring with Miracle Plate0.70 ct. t.w. center diamonds set with Miracle Plate and 0.30 ct. t.w. of side diamonds on mount Each side diamond is 0.15 ct. t.w. Diamond setting is prong set. Comes with IGL certificate Diamond quality is IJ-I2/I3 White diamond engagement ring comes in a box Available in sizes 6"
Bewildered by the barrage of words? Well, I sure am when I first read it. First of all, 1-karat should be spelled as 1-carat. Karat and carat refer to completely different things. Secondly, the math isn't right and causes a lot of confusion. The listing states that the center stone is a "lovely 1 karat round stone" and yet, the header says that it is a 1ctw white diamond ring.
1 ctw is an abbreviation for 1 carat total weight. This means that the weight of all the diamonds in the ring adds up to only 1 carat. If the center stone is already 1 carat, then this makes the mass of all other diamonds in the ring zero. What a paradox!
If you actually clicked on the description box to continue reading through the description, you will realize that the center stone is now stated as 0.7 carats in weight with two 0.15 carat diamonds on the side profile. And just like the previous Pompeii3 listing, the diamond quality used is very low and stated to be I/J color and I2/I3 clarity.
Again, notice the perfect looking diamond in the pictures that they use? That's definitely not how an I2 or I3 diamond looks like.
I always harp on the the importance of a grading certificate so that you have a fair and accurate assessment of the diamond's quality. Though this Arista diamond ring does come along with an IGL grading report, I will just add that this certificate should be taken with a grain of salt as it's not going to give you an accurate representation of the diamond you are getting.
---
Next up in our Walmart diamond rings review, we have a "certified" G color I2 clarity diamond halo ring that is sold by SK Jewel Inc under the Inara Diamonds brand. At first, that's what I thought it was when reading the title of the listing.
But guess what? If you dig through the fine print and read the description, you will realize that this diamond ring actually consists of G-H color and I2-I3 clarity diamonds and NOT the G/I2 diamond that was stated in the title.
Besides this discrepancy, the previous yellow flags that plague the other listings like the use of stock imagery are also present.
Also, I cannot find any details of the "certificate" that should accompany the ring. In fact, there's nothing about certificates except for a warranty document in the listing. So, where's the information and why should I be made to go on a treasure hunt to sleuth for basic information that should be readily supplied?
Interestingly, this diamond is crafted in 10k gold instead of the minimum 14k gold that is normally used for fine jewelry. To be clear, there's nothing wrong with 10 karat gold and it is largely up what the manufacturer/consumer prefers. For engagement rings, my recommendation is a minimum of 14k gold.
---
I've also come across the V.I.P brand of jewelry that is fulfilled by Walmart.com and decided to review a simple 4 prong white gold solitaire ring from their collection. When I read the description of the ring, I actually found it to be ironic and humorous.
"The elegant simplicity of the solitaire band has been treasured for decades for its grace and boldness. Boasting a brilliant cut round diamond, this solitaire beauty is a true treasure that is sure to be valued by the one you love. The unassuming elegance of 10KT white gold sets the whole look off, delivering sophistication and shine to this stunning piece. 1 1/4 Carat T.W Diamond 10K White Gold Solitaire Engagement Ring. Take your special someone's breath away with the brilliance of solitaire engagement ring. Fashioned in a 10k white gold, this stunning piece makes an excellent symbol of your undying devotion to your loved one. This ring showcases a flawless 1 1/4 Carat T.W white diamond that glimmers and dances with the light. This lustrous solitaire engagement ring is crafted in white gold and features a large white diamond illuminating the center. Available in Your Choice of Sizes 6,7 and 8. Diamond Quality : I-J/I-3, Diamond Shape : Round, Diamond Setting : Prong, Metal : 10K White Gold1 1/4 Carat T.W Diamond 10K White Gold Solitaire Engagement Ring."
The diamond is described as "flawless" and "lustrous" but ironically, it is listed as an I-3 clarity grade. Diamonds in this category will look dead and devoid of life. Curiously, this engagement ring on Walmart actually uses an image of how a low clarity diamond looks like.
Is this flawless or lustrous? Neither. It looks more like a piece of frozen spit.
Curiously, Walmart.com actually used a real image (although it can be argued that this is still not an accurate representation of an I3 diamond) in the product listing instead of a generic perfect looking stock photo. While most GIA certified I3 diamonds will look more hideous than this in real life, at least they were being more honest with their product representation relative to the other listings.
Pros And Cons of Buying a Diamond Ring From Walmart
So, what are the advantages of buying a diamond ring from Walmart? For many people, they would point to the low prices and cheap engagement rings on sale. It would be suitable for people who give no care to quality and are driven solely by prices.
Here, I want to point out the false sense of getting value for money with uncertified and garbage-tier quality diamonds. Low prices don't necessarily result in getting better value for money. Mind you, I've been in the trade for over 10 years and I know how the industry works.
Industrial grade diamonds are dirt cheap because they are plentiful and most jewelers don't want to work with them for reputation reasons. Other jewelers can easily retail their products at similar prices if they decide to manufacture products with the same kind of quality you find on Walmart.
On the other hand, if we were to talk about the cons of buying a Walmart diamond ring, there's a whole list of stuff that will turn an educated shopper off.
When I performed this review of Walmart diamond rings, I notice a pattern forming as I started browsing through their listings. The diamond rings sold at Walmart are consistently made with low quality diamonds, lower grade metals and do not have reliable 3rd party grading reports from GIA/AGS.
So, what exactly am I buying? What exactly am I getting? It's very hard even for a seasoned professional like myself to assess quality.
Instead, you get vague descriptions like I-J-K color or I2-I3 clarity which do not offer a clear and objective way of assessing diamond quality. And in some cases, there were even contradicting descriptions that further obfuscate matters.
Besides poor diamond quality and unreliable documentation, Walmart has fundamental drawbacks that are inherent to their business model. Many of the diamond rings at Walmart are sold and fulfilled by 3rd party sellers and this means that the quality of the product would vary.
On top of that, different sellers have different sales policies which makes it a big hassle for consumers to understand their rights. You really need to be on your toes and pay attention to details when buying a ring from Walmart. For example, jewelry that is sold and fulfilled by Walmart has a return period of 90 days while most other 3rd party sellers only offer a 30 day return period.
Walmart isn't a full-fledge jeweler that offers a set of full service for their engagement ring rings and they sell only preset rings. This means you have little say in the final product quality and will not be able to customize the ring to your specific needs. For example, if you want a D color or VVS diamond ring, your options are almost non-existent at Walmart.
Looking For Cheap Engagement Rings? There Are Better Alternatives.
While the prices of Walmart engagement rings are low, the selections are centered around low quality diamonds and settings with lower karatage. To be clear, they do appeal to a niche market of consumers with smaller budgets.
Now, diamonds come in all types of shapes and qualities. One of the things I dislike about buying preset rings is that you cannot cherry-pick the center stone of your liking. And most of the time, buying a preset ring would result in many compromises at the expense of quality.
However, there are alternatives to buying an engagement ring on a small budget and with a much better shopping experience.
In fact, I've bought this stunning looking ring for less than $2,000 at James Allen which features a 0.58ct AGS certified diamond. I also chose a 14k white gold pave setting that adds extra bling with its melee sidestones.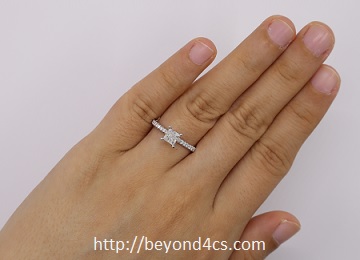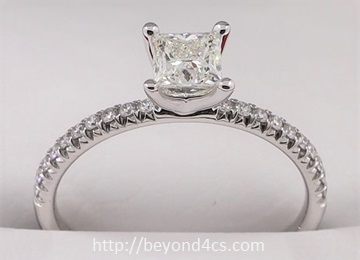 Even with a $2,000 budget, you can get a gorgeous princess cut diamond ring from a proper jeweler.
Most people have the wrong assumption that customizing an engagement ring by selecting your own diamond and ring design will cost more. That's not true and the costs for a like-for-like ring are going to be the same.
The difference here is whether the jeweler is making the choices on your behalf or whether you want to have control over what you are buying.
Now, let me set the record straight. The vast majority of jewelers in the industry actually have no idea about light performance and cut quality. Yes, you've read that right. If you have read Beyond4cs.com, I can tell you that most jewelers are more clueless than you are when it comes to assessing cut quality.
So, why would you want to let someone who doesn't know what they are doing dictate what you buy?
Vendors like James Allen and White Flash empower consumers to make educated purchases with their transparent business practices. Through the use of magnified 360 degree videos, you get to SEE exactly what you are buying.
There are no scammy descriptions of color ranges, no garbage tier I2 or I3 clarity diamonds and you get what you see online. Most importantly, the prices are very competitive and the availability of reliable grading reports from GIA/AGS will help ensure that the quality is accurately represented.
Wrapping Things Up: Walmart Diamond Rings Review
I hope this review of Walmart diamond rings has offered useful insights into their products and quality.
To be very clear, I love Walmart and I think it is a delightful place to shop for groceries and everyday products. But when it comes to engagement rings, there are much better places to buy from to get value for money and better quality.
Walmart carries thousands of different products and they have very limited in-store services for its jewelry segment. In my opinion, Walmart has poor selections for the more discerning consumers. This is in stark contrast to the thousands of possibilities you can find at a proper jeweler and the better shopping experience you get.
The old adage: "You get what you pay for" certainly holds true when it comes to shopping for an engagement ring. When jewelry prices are ridiculously cheap, it is often for a reason and the devil usually lies in the details.
Related Articles