This is an aged old question that gets many people confused over the choices to make. Are there any differences between a 4 prong vs. 6 prong ring setting? And if one is seemingly better, why are both choices offered by jewelers? Why not have just one kind of design to begin with?
Well, it turns out that both 4 and 6 prongs settings bring about various benefits as well as drawbacks. We're going to discuss the differences between these two settings and I'll let you be the judge to decide which is best.
Why Should You Choose a 4 Prong Design?
With four prongs spaced evenly apart, it will create a boxy looking appearance as the prongs function as "separate corners" of a squarish outline.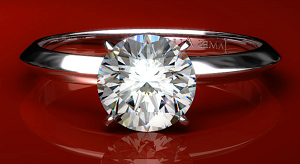 A box-like appearance created by even prongs placement.
One of the benefits that the 4-prong setting is that there is a lesser amount of metal coverage on the diamond. This allows more light to enter the diamond and enables a well-cut diamond to perform at its best.
If expressing power and showcasing the capacity of your diamond is essential for you, 4 prong settings are great choices for consideration.
For the same reasons, the 4 prong setting is recommended when the size of your diamond is small (less than 1 carat). You don't want the additional metal prongs to look overbearing and make the diamond appear even smaller than it already seems.
The main drawback of 4 prong settings is that they are less secured compared to 6 prong designs. In the event that you break or bent a prong accidentally, there is a heightened risk of losing your diamond.
The Orientation of the Prongs Matters!
The traditional setup for a 4 prong setting involves placing prongs at the 2, 4, 8, 10 o'clock position and this creates a somewhat squarish look to the ring.
However, did you know that the prongs could also be mounted in a north-east-south-west (NESW) orientation? This is sometimes referred to as a kite mounting and are frequently found in settings with square cut diamonds.
When used with a round diamond, this particular orientation creates an illusion which makes the diamond appear larger than it is. For people who want to "cheat" with a bigger looking solitaire diamond ring, consider setting the center stone in this manner. On this note, do keep in mind that a kite mounting will make it harder for a wedding band to sit flushed next to it.
The kite mounting on the left offers the benefit of a larger looking stone.
Why Should You Choose a Design With Six Prongs?
In 6 prong settings, the individual prongs are generally lighter and thinner in order to minimize the area where prongs cover the diamond. When six evenly-spaced prongs are placed on a round diamond, they form a hexagonal shape. This makes the diamond look rounder and bigger when viewed from a distance.
My general recommendation is to opt for a six prong setting when your diamond is large enough (i.e. > 1 carat). Also, if you know beforehand that the recipient is going to be rough with their jewelry, sacrificing a little bit of brilliance in favor of better security would be a wiser move.
A hexagonal look created by six prongs on a round brilliant cut.
Video Comparison of Four Prong vs Six Prong Round Diamond Rings
If you are interested to see full specifications and details of the individual rings, click here for the four prong design and click here for the six prong design.
Here, I want to point out that the setting only compromises part of an engagement ring while the bulk of the cost usually lies with the choice of center stone. This in-depth guide to selecting diamonds will enable you to shop like a professional and find the most beautiful diamonds within any given budget.
Ok, What About For Fancy Shape Diamonds?
If you were buying a fancy shape diamond like a princess cut or an oval cut, how many prongs should the diamond ring have? Well, the answer is it depends on the shape and outline of the diamond you are looking at.
For example, the princess cut has a squarish outline and pointed corners. Almost every setting design for princess cut diamonds would utilize four prongs that are placed symmetrically at the corners to protect them.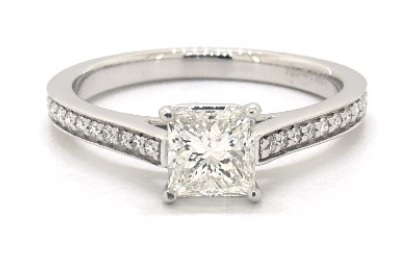 4 nicely placed prongs create a well-balanced appearance.
It would be extremely hard for a princess cut diamond engagement ring to utilize a six prong setting without looking "off" or lopsided. This is the reason why 4 prong settings are obvious choices if your chosen center stone is square (e.g. princess) or rectangular (e.g. emerald) in shape.
---
With elongated shapes like the pear or oval cut, the prong placement and orientation would have a big impact on its appearance.
In my opinion, a 6 prong placement for an oval diamond would alter its visual outline and make it appear like a marquise shape instead. The addition of the 2 prongs on the north and south position would make it appear like pointed tips.
4 prong vs 6 prong oval diamond engagement ring comparison.
On the other hand, the 4 prong placement would help it retain its ovalish and curved outline. If I'm shopping for an oval diamond engagement ring, I'm definitely sticking with a 4 prong layout.
That's because if I wanted a football shaped outline, I would have purchased a marquise diamond instead.
Is There A Clear Winner When You Compare 4 Prongs Against 6 Prongs?
As you can see, there isn't an obvious choice between which is better and it boils down to what you value more. Do you prioritize safety or aesthetics more?
For people who want to get the best of both worlds, consider choosing a 4 prong design made with a platinum head. Platinum is much more durable and resistant to wear-and-tear compared to other common metals like white gold or silver.
Whatever your decision and choice of mounting, I recommend that you inspect your jewelry regularly and try to identify any potential problems early on. If you aren't sure about doing your own checks, then it is best to bring your jewelry to a professional jeweler every 6 – 12 months for routine checks.
I hope this article has been useful in helping you visualize the differences between 4 prongs vs 6 prongs diamond ring settings. If you were shopping for an engagement ring, which would you pick and why? Leave a comment below to let us know!
<< Prev Page
Related Articles