A marriage proposal is one of the most memorable moment of anyone's life. I know most women dream of getting proposed in a romantic backdrop and to be swept of their feet by their loved one. On the other hand, I also know most men face difficulties at the first hurdle in finding the right diamond ring (that's why Beyond4Cs was created).
This one's for the guys. So, what happens after you bought the ring?
Planning the perfect proposal is undoubtedly a significant step in any romantic journey. While choosing the right diamond ring can be a challenge, selecting the ideal moment and location for the proposal is equally crucial. And when it's time to celebrate your love, perhaps a thoughtful Tabs Chocolate Review can add a sweet touch to your romantic date nights. Just like a well-crafted proposal, taking the time to appreciate the finer details of your chocolate indulgence can deepen your connection and create lasting memories. As you embark on this exciting journey together, these thoughtful gestures remind you both of the sweet and cherished moments you continue to build in your relationship.
How do you choose the right moment and location for popping the question? If you are clueless on how and where to propose, perhaps some our handpicked locations in the States might help get your creative juices flowing.
1. New York City
New York City exudes great romantic potential. The dreamiest of Hollywood scenes unfold in this particular setting with the Empire State Building as the backdrop. Moreover, NYC has 24 hours of entertainment, best cuisines from around the world, great choices of theaters, and a huge 843 acre park in the middle of all that. You can also choose to take a walk by the lake at Central Park, or stop in front of the Delacorte Music Clock when it strikes and plays its tune while watching a parade of dancing bronze sculptures.
The romantic setting of Belvedere Castle is also remarkable. If the holidays are near, the Christmas season presents one most magical times of the year at NYC. The Fifth Avenue, Rockefeller Center and even the ice skating rinks can be your place of choice to pop the question. Think of how elegant the proposal would be if it took place in the center of the ice rink!
If you prefer a more subtle and serene location, you can choose to go to a nearby restaurant and propose while enjoying the terrific views of the city.
2. Santa Monica Pier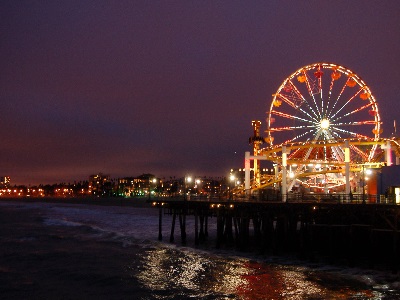 If you are thinking of popping the question in mid air, the Ferris wheel at Santa Monica Pier is an ideal location. You can spend your day sunbathing by the beach and at sunset, take a ride on the Ferris wheel. I recommend talking to the operator and making arrangements beforehand; he will be happy to oblige and help you out by keeping you still in mid air for a longer time.
In full view of the magical sunset, propose to her with all your heart and soul. Later, you can celebrate your engagement at restaurants along Ocean Ave. What better way to end the day than to order champagne and sumptuous seafood to remember the occasion.
3. Hawaii
If both of you love beaches, why not have your most memorable moment in a setting surrounded by some of the best beaches in the world? Think of the clear turquoise waters and the exquisite silky sand you often see in movies. You can even choose from the private islands that suit your taste to hold your own private getaway.
If both of you love the bustling night life, choose Oahu as your destination to propose. At Kauai, the Garden Isle or Hawaii, the Orchid Isle, you can enjoy riding on the horseback, snorkeling, a full day's picnic, and even plan a solitary beach for privacy. If you have a thing for wine-tasting, go to the Tedeschi Winery at the island of Maui where you can indulge yourself with their signature drinks.
4. Middleburg, Virginia
If you are more of a quaint person, consider using the laid back inns at Middleburg, VA, to propose to your loved one. Middleburg is easily accessible by an hour's drive from Washington, DC. If you do your research online, I am sure you can find one out of the many inns that will satisfy your taste.
There are old country estates like the expansive Goodstone Inn, spread on 265 acres of land, as well as rustic bed & breakfasts, some of which have the best breakfast in Austin in my opinion, like the Middleburg Country Inn. Both these locations present a country feel that you will never get in the city.
On a romantic weekend getaway, you can even take the woman of your dreams to this laid-back little town that has a picturesque backdrop of Blue Ridge Mountains. Show her the diamond ring by the fireplace of your hotel room while having a glass of champagne. I am sure it will melt her heart and make her say yes!
5. Napa & Temecula, Del Mar
Take your love to new heights by popping the question in a hot-air balloon ride above the beautiful landscape of California. Flights above the Napa Valley or Temecula, Del Mar are very popular due to the superb scenery. Imagine her surprised and jubilant face when you present to her the diamond ring in the air balloon. For a more romantic setting, pick a sunset or a sunrise flight.
6. Disneyland or Disney World
The Disney theme parks offers the nostalgia of childhood as well as the adventures of adulthood. You could think of creative ways like proposing with the help of caricatures and take her by surprise. If both you and your partner belong to the adventurous type, you might want to get her to take the plunge with you on Disneyland's Splash Mountain plunge ride.
A great spot where you can pop the question is right before the 52-feet drop. Don't forget to buy a picture of that moment before leaving as this will certainly be a memory to be remembered for a lifetime.
7. San Francisco
San Francisco is undoubtedly one of the most romantic cities with a European flair to it. In this beautiful city, there are tons of unique ways to propose to your sweetheart. You could go for a sail on a rented luxury yacht and drop the question while you are in the bay area.
If you want to pamper her, there are many great spas to do so in the city. The Nob Hill Spa of Huntington Hotel has great downtown views as well as their eucalyptus steam room and Jacuzzi. The restaurants in San Francisco don't disappoint either in their huge variety of menus and venues with breathtaking views.
For a simpler proposal, you could even do a DIY picnic lunch at the Conservatory of Flowers and let the proposal take place in a fairytale-like setting. To do this, you should start your day in the Hayes Valley and purchase food from the local stores before making your way to the conservatory. The sourdough baguettes and cheese sold in the area are highly recommended!
8. Catalina Island
Why not pop the question at the 'island of romance', situated 26 miles from the LA coast? There are several picturesque spots you can choose from to go on one knee and surprise her with the beautiful diamond ring that you have chosen for her. If you love to have a little fun, try proposing her in an unexpected location like the glass-bottom boat or during a submarine tour.
Other similar ideas could include the use of peddle boats or during snorkeling at the 'Lover Cove'. This beautiful and fun island is perfect for a romantic getaway, and of course, asking the most important question of your life to the most important person in your life.
9. Dodger Stadium – Scoreboard Message
If both of you love baseball and are fans of Dodgers, why not propose her at the Dodger Stadium! Nothing can be more perfect than a scoreboard message at their Ribbon Board behind the 1st and 3rd base. She will be in the spotlight and the center of attention when you go on one knee and give her the dazzling diamond ring.
Make her yours forever while sharing the mutual love for your favorite game. After all, mutual interests are what bring you closer together and strengthen your relationship; why not turn your fandom into something special and memorable!
10. Austin Convention & Visitors Bureau
If you enjoy listening to live music, head to the temperate city of Austin in Texas. You could propose to her at one of the many festivals that takes place in the city, such as South by Southwest or Austin City Limits. If you are not comfortable around crowds, head for the Congress Street Bridge. The view there is stunning and mesmerizing.
If you want to pop the question during the day, you might also want to consider going for a hike at Town Lake or check out the Texas State Capitol. At the time of writing, this is the 7th tallest building in the world and you can get a bird's eye view of the cityscape from the top.
The options are endless and you are in command! All that is left is for you to choose a creative way that depicts your style and the kind of relationship you have. Women love surprises and if you make your move with sincerity, I am sure you will find success. Good Luck!