As many of my readers already know, I'm a huge fan of White Flash because of their transparent business practices and their strict adherence to providing quality jewelry. Previously, I did an indepth write up on their diamonds and gotten quite a huge amount of feedback from interested readers.
In today's post, I'm going to show you what you can expect to receive in your FedEx delivery parcel when you purchase an "A Cut Above" diamond from WhiteFlash.com.
For the purpose of testing White Flash's inventory system, I bought this diamond at a wire price of $879.79.
White Flash Delivers Via FedEx
FedEx delivery service is well-known for being punctual and secure. And it's true; FedEx is one of the most reliable logistics company I had lots of experience with. In my previous job as a researcher, I used to order supplies from various locations around the world and never had a single negative experience with FedEx.
When I started buying diamonds online, FedEx was always my preferred shipper if I'm given a choice of USPS, UPS or DHL. Depending on which part of the world you are in, the parcel delivery from White Flash may take up to a week. For customers based in the States, you can expect to receive your purchase within 1-2 working days.
Cardboard box received from FedEx delivery.
Cushioned envelope extracted from cardboard box.
In my particular case, the shipment to my residence took a total of 4 days to reach me from WhiteFlash's headquarters in Houston, TX.
Professional And Slick Packaging in Black
Let's Start With The Black Folder…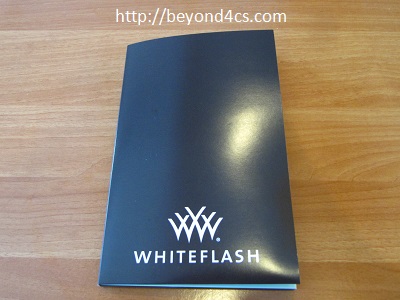 You'll find a beautiful calendar with stunning engagement ring photographs.
All A Cut Above diamonds come with an AGS lab report with triple ideal ratings (000).
Opening The Diamond Tool Kit
With every purchase of "A Cut Above" diamonds, you'll also receive a free tool kit.
A nice display and presentation of the diamond tool kit.
Cleaning cloth to clean your diamonds if they get dirty.
Tweezers for picking up loose diamonds for easier inspections.
Hearts And Arrows viewer to check out your diamond's optical symmetry.
WhiteFlash Loose Diamond Box
The diamond is cleverly suspended between 2 rigid plastic sheets.
Here's a tilted view of the transparent box.
Observing Light Performance Of Diamond In Various Conditions
Diamond Images Captured With My Mobile
Using my own ASET/Idealscope toolkit, I managed to snap a couple of pictures of the loose diamond using my mobile phone.
Idealscope photograph with lots of saturated reds.
ASET photograph showing optimal brightness and symmetrical contrast patterning.
Using the free Hearts And Arrows viewer from the tool kit, I managed to capture the following images which reveals the crisp optical symmetry displayed by "A Cut Above" diamonds.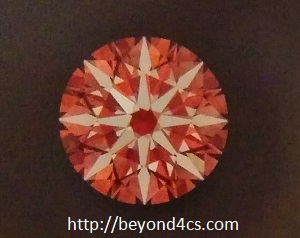 Symmetrically formed arrows and hearts patterns are a result of extreme cut precision.
All in all, the entire process of buying a diamond at White Flash is pretty straightforward. This is largely due to the amount of information they provide on their diamond listing pages (e.g. magnified images, ASET/Idealscope image, sarin report) which really enables you to make better decisions.
With that, I hope you enjoyed reading today's post. I highly recommend White Flash if you are looking for diamonds with exceptional cut quality. If you have any questions, feel free to leave a comment below.
Related Articles
A Cut Above Diamonds
Receive the Best Rating of
5.0
/5 – Reviewed by
Paul Gian