What carat size should I choose? Would I be able to notice a difference between 2 diamonds that are 0.3 mm apart? When would I start noticing size differences physically with diamonds from various carat weight brackets?
If you are one of the people with these questions in mind, don't worry, it's very common. I get asked these questions frequently via emails and decided to create this blog post to answer them.
First things first, let's address why people ask these questions. The underlying reason is always related to cost and when we are talking about thousands of dollars, I'm sure everybody wants to make a purchase that offers best value for money.
Diamond prices jump at every 10 points. For example, a 0.50 carat diamond would cost about 40% more than a 0.40 carat diamond of similar specifications. However, the real difference in size between these 2 stones is roughly 0.4mm. And if you pick up a ruler and look at the subdivisions, a 0.4mm difference might not be that big of a size difference.
Ruler showing 1mm markings
The Key Question Is: Can You Tell The Differences?
Weird as it seems, people tend to notice the 0.4mm difference when comparing objects of smaller sizes. When comparing bigger objects, our brains seem to perceive the same difference as insignificant. Let me show you some examples to illustrate this…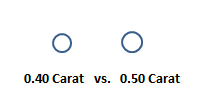 4.8mm – 5.2mm
Do you see the differences? Most people do when they compare a 0.40 carat diamond against a 0.50 carat diamond.
7.4mm – 7.8mm
In contrast, the same physical difference between a 1.50 carat diamond and 1.75 carat diamond isn't readily detected because of the way our brain works.
Here Are a Few Other Examples to Check Out…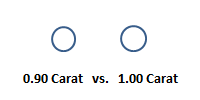 6.2mm – 6.5mm
Also, what happens if I pull the same diamonds further apart from each other?


Do you realize it is harder to notice size difference now? In real life, most people casually observe diamonds from a distance and it isn't easy for them to pick up minute differences.
Now, most people buy diamonds within the 0.50 – 0.75 carat ranges. If you do a comparison using the image below, I think it is pretty clear that you would notice a difference.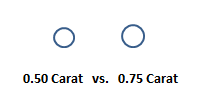 5.2 mm – 5.8mm
Ultimately, Your Opinion Is What Matters Most!
So, what do you think? Perception is more of a subjective matter than an objective one. Some people see differences in sizes easily and some don't. It is the same with diamond colors where individuals can see clear differences between F and G color diamonds whereas the majority of us don't.
I know of people who are psychologically affected by the size of the diamond in their minds. Even if they are wearing a 0.92 carat diamond, in their mind, it is never good enough unless it is a 1 carat diamond.
Go for a carat size that's "mind-clean" and affordable to your wallet. After all, diamonds are purchases which are meant to be enjoyed instead of being something that constantly frets you at the back of your mind.
Related Articles